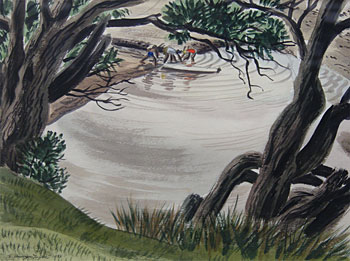 10.
E Mervyn Taylor 1906 - 1964
Setting Off
Watercolour
26 x 35.5 cm
Signed & dated 1955
est. $2,500 - 3,500
Fetched $5,000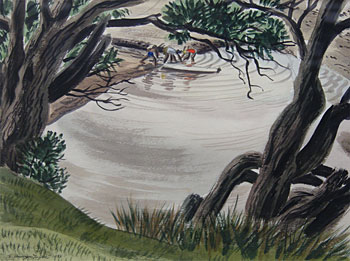 Relative size
E Mervyn Taylor's (1906-1964) depictions of New Zealand birds and tales from Māori mythology reproduced in the School Journal in the 1940s heralded a new emphasis on New Zealand content in the publication.
Taylor contributed drawings and woodcuts to the School Journal between 1940 and 1964, and served as art editor between 1944 and 1946. According to fellow artist and School Journal contributor John Drawbridge, Taylor "established the beginnings of a tradition of high standards in illustration, typography and book design in all the School Publications' publications".
Originally trained as a jewellery engraver, Taylor later became known for his elegant and meticulous wood engravings. In 1948 he and Russell Clark produced more than 150 drawings to accompany the book-length feature about traditional Māori life, 'Life in the Pa'. The feature told the story of a boy taken from his Northland village by a war party and raised by another tribe. Taylor contributed images of birds and of Māori implements and weapons that he had studied in the Dominion Museum in Wellington (now the Museum of New Zealand Te Papa Tongarewa).