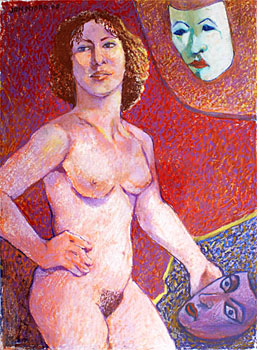 2.
Jan Nigro
Standing Nude with Masks
Pastel on paper
75 x 56 cm
Signed & dated 2005
est. $2,000 - 3,000
Fetched $2,100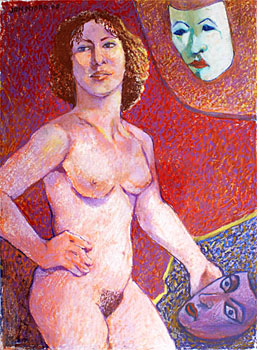 Relative size
Jan was born in Gisborne in 1920, enrolling at Elam, School of Fine Arts, Auckland in 1937. She studied under the Archie Fisher, John Weeks and Lois White. It was here that she met her future husband, the artist, Gerry (Angelo) Nigro. After the war they moved to Australia where Nigro became established exhibiting in Melbourne and Sydney. On their return to New Zealand they settled in Rotorua where Jan Nigro explored abstraction before returning to the figure; which was a source of inspiration across her over 70 year career. From Rotorua they moved to Northcote, Auckland and later Waiheke Island. She lived there for another 25 years before moving back to Auckland North Shore.
In 1996 Claire Finlayson wrote her thesis on Jan Nigro, and entitled it "Jan Nigro - Topographer of the Social". In it Finlayson discussed how in the first two and a half decades of the artist's career Jan Nigro submitted the figure to a "formal analysis" and how since then she had "undertaken to examine the figure from a range of sexual, social, cultural and psychological perspectives".
Jan Nigro was an astute observer of human behaviour, succinctly appraising the world around her in her search to understand the figure. The human figure remained constant for her as the greatest and most lasting source of inspiration. She liked to build a strong rapport with her models and built themes around them. They were portraits only in the sense that we could often identify the sitter. Primarily Jan Nigro used the figure as a means to represent the themes and subjects, which she chose to explore.
In 1993 she was awarded an MBE for Services to the Arts. In 1996 her autobiography an "Apple for the Teacher" was published. During 2001-2002 a survey of her work - A Portrait of Jan Nigro - toured to the National Portrait Gallery, Wellington and the Rotorua Museum of Art & History.
Jan Nigro for many years met weekly with fellow artists to draw and be inspired by the models who sat for the group. She always looked to challenge herself be it by medium or in the interpretation of subject. Aware of the trends of her time Jan Nigro was interested in how society adapted to issues. In her artrwork she was always looking to innovative and throughout her career was prepared to explore and tackle difficult subjects and experiment with her mediums.
Nigro is represented in many private and public collections both in New Zealand and internationally; including Te Papa Tongarewa, Auckland Art Gallery, Rotorua Museum of Art & History, The Dowse, Hawke's Bay Museum, National Gallery of Victoria, Melbourne.