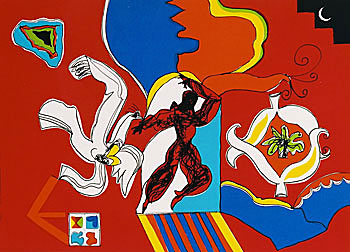 5.
Pat Hanly
Untitled
Screenprint, edition of 101
51 x 72 cm
Signed & dated 1995
est. $2,800 - 3,200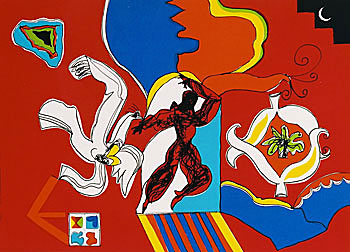 Relative size
Pat Hanly 1932 - 2004 was a painter born in Palmerston North. Hanly was educated in Palmerston North but was withdrawn from secondary school before matriculating. Hanly's parents had organised a hairdressing apprenticeship for him. During this time Hanly took night classes and then enrolled as a non diploma student at the University of Canterbury School of Fine Arts. After graduating Hanly travelled to Europe and attended classes at the Chelsea School of Art. Hanly returned to New Zealand in 1962 and accepted a position teaching drawing at the University of Auckland School of Architecture. Hanly continued to paint until his retirement in 1994.
Hanly completed a number of large public murals at Auckland Airport, The University of Auckland School of Architecture and the Aotea Centre. Hanly was also responsible for the Peace Mural on the corner of Karangahape and Ponsoby Roads in Auckland. Hanly was also commissioned by Sir Miles Warren to paint "Rainbow Pieces" for the Christchurch Town Hall in 1971.
Hanly married Gillian Taverner in 1958 and the couple had three children. He was a keen sailor and anti nuclear activist. The New Zealand Who's Who listed his recreations as kite flying, sailing and Greenpeace.
During his time at the University of Canterbury Hanly received the Turner Prize for landscape.