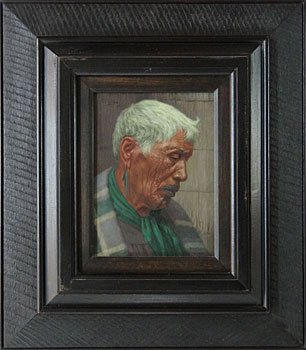 36.
Charles Frederick Goldie 1870 - 1947
Drowsy - Wiripine Ninia, Nga - ti Awa
Oil on wood panel
19.1 x 14 cm
Signed & dated 1911
est. $190,000 - 250,000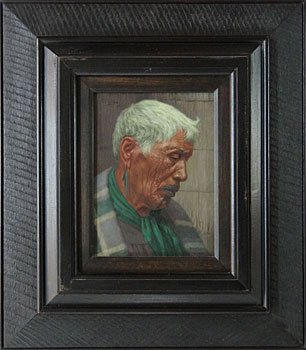 Relative size
Provenance:
Private Collection, Nelson
Illustrated:
p. 219 C F Goldie His Life & Painting, Alister Taylor & Jan Glen, Alister Taylor publishing 1977
Exhibited:
GOLDIE - The Exhibition, 1997 - 1999 Auckland Art Gallery Toi O Tamaki, Catalogue no. 67
In this reflective portrait of Wiripine Ninia, C F Goldie conveys a mood of transition, not only in the life of the old Chieftainess, but of the times in which they both lived. Wiripine Ninia bears traditional moko and talisman greenstone earrings whilst draped in European clothing, emblems of two worlds. The close and sympathetic bond between artist and subject is evident in this work.