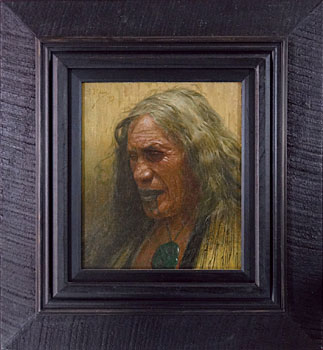 35.
Charles Frederick Goldie 1870 - 1947
Hera Puna, Nga - ti Whanaunga - As Rembrandt Would Have Painted the Maori
Oil on canvas on board
35.5 x 30.5 cm
Signed & dated 1933
est. $280,000 - 350,000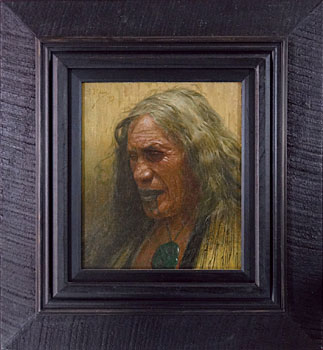 Relative size
Provenance:
John Leech Gallery, Auckland, 5 August 1947, £157.10s. Purchased by current owners family from Webb's, 1984
Illustrated:
New Zealand Herald, 6 December, 1969
Evening Post, 24 July, 1974
The Dominion, 2 August 1974
Evening Post, 2 August 1974
New Zealand Herald, September 21, 1983: Goldie Heading for $100,000. The article showing the painting with art dealer Peter Webb when the work was sold for a then record price at auction.
p. 266 C F Goldie His Life & Painting, Alister Taylor & Jan Glen, Alister Taylor publishing 1977
Exhibited:
John Leech Gallery, Auckland, August 1947
GOLDIE - The Exhibition, 1997 - 1999 Auckland Art Gallery Toi O Tamaki, Catalogue no. 132
Hera Pua was the brave wife of Hori Te Whanaunga and fought alongside her husband in the 1865 battle of Orakau in the Waikato. In this work Goldie draws upon sketches and photographs of the subject taken in his youth, creating a compelling portrait of a memorable subject.