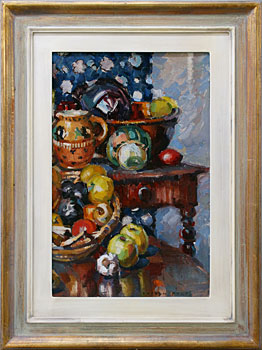 27.
Evelyn Page 1899 - 1988
Still Life with Jug and Apples, circa 1968
Oil on canvas
68 x 44 cm
Signed
est. $55,000 - 85,000
Fetched $49,500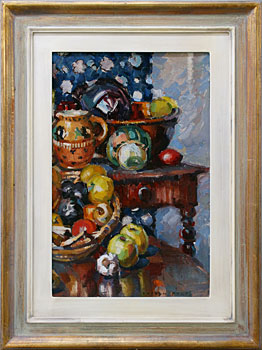 Relative size
Provenance:
Collection of the family of the artist
Evelyn Page began her training as an artist at the Canterbury School of Art in 1915 at the time of Raymond McIntyre and Owen Merton. In spite of early formalist training she soon adopted the style her painting she is so well known and loved for today; the atmospheric effects of light with freshly applied and increasingly vibrant colour, in the manner of Cézanne and Bonnard although it was not until the 1930s that she first visited Paris and saw original works by the French Post- Impressionists. Throughout her long career as an artist she continued to paint in the style she developed during her time in Christchurch, following her singular interpretation of visual experiences, regardless of any changes in fashion.
"Over seven decades as an instinctive representational painter Evelyn Page developed her palette as much as she gave human interest to her subject matter. Her treatment of colour has given her a place as one of New Zealand's foremost colourists"Janet Paul and Neil Roberts. p. 57 Evelyn Page Seven Decades catalogue, The Robert McDougall Art Gallery 1986. After the 1960s as she became increasingly interested in depicting objects from her everyday domestic life and she painted many still lifes, either reflecting her life in the orchard garden at Waikanae or interiors from her home in Hobson Street, Wellington. These paintings, luscious in surface and colour but usually simple in design, convey her joy of life and the pleasure she took in the visual beauty of nature.
Still Life with Jug and Apples is a true celebration of her enjoyment and use of colour and light. Larger than many of her still lifes, she has included objects that were a necessary part of her everyday domestic life- the silkscreened blue wall paper she purchased in London for her dining room, the antique side table and highly polished breakfast table which reflects the rich colours of the luscious looking fruit she has painted.