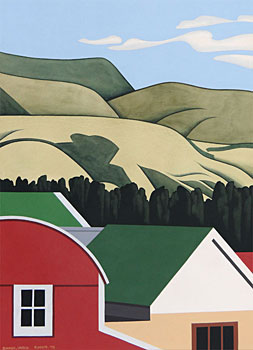 29.
Robin White b. 1946
Summer, Lincoln
Watercolour
62 x 44 cm
Signed & dated 1973
est. $25,000 - 35,000
Fetched $36,000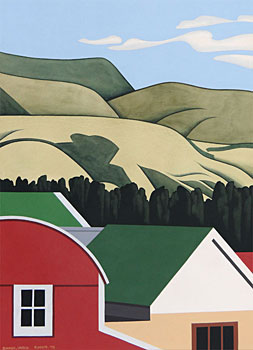 Relative size
Dame Robin White, born 1946 in Te Puke, Bay of Plenty is a graduate and alumna of Elam School of Fine Arts which she attended in the late 1960s. Colin McCahon was one of her mentors and Canterbury painter, Rita Angus another key influence. Of Maori and Pakeha descent Robin White has been one of this country's most prominent painters and printmakers since the 1970s. In 1982 she moved with her family to Kiribati (formerly Gilbert Islands) to work with the Ba'Hai community. White set up a studio there returning to New Zealand in 1999. In 2002 a survey show, Island Life: Robin White in New Zealand and Kiribati, toured New Zealand. White is represented in the collections of all major public New Zealand art galleries and in galleries across Australia.
This work, Summer, Lincoln is an original 1973 watercolour, created the same year as the familiar and iconic screen print Red Barn, Lincoln.
... when I'm contemplating this land, I am conscious of what I feel to be the Creator's hand. The beauty of it all, the infinite variety, what a miracle it is. These are the things that really move me and I hope that some of this respect for the land comes through in my paintings. Robin White