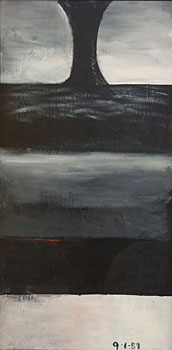 20.
Colin McCahon 1919 - 1987
A Landscape (1959)
Enamel paint on board
122 x 61 cm
Signed, inscribed A Landscape SOLPAH & dated 9/1/1959 verso
est. $200,000 - 300,000
Fetched $285,000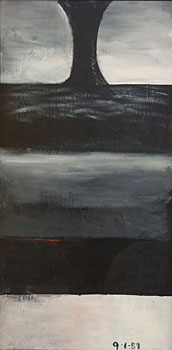 Relative size
Provenance:
Private Collection, Auckland
Private Collection, Christchurch, acquired directly from the artist, 1959
Colin McCahon online catalogue cm001102
Exhibited:
An Exhibition of paintings by Colin McCahon October, 1959 Gallery 91, Christchurch,
Illustrated:
p. 59 Colin McCahon The Titirangi Years, 1953-1959, Peter Simpson, Auckland University Press 2007
A Landscape (1959) belongs to a distinct group of McCahon paintings dating from December 1958 and January 1959. About a dozen such works were shown as part of Recent Paintings at Gallery 91 in Christchurch, October 1959. The best-known of the group is Cross (Auckland Art Gallery) dated 8.1.59, one day prior to A Landscape, dated 9.1. 59.
All these works were painted during a remarkable spurt of creative energy which followed McCahon's career-changing, four-month visit to the USA in 1958. Among those whose work stood out, as reported in letters home, were old masters from El Greco to Mondrian, and the new school of abstract expressionists whose work was then just entering American museums such as Pollock, Rothko and Diebenkorn. Once assimilated, this experience radically changed McCahon's practice, affecting its scale (much larger), materials (unstretched canvas, hardboard, commercial house paints), and method of applying paint (less meticulous, more gestural).
The group to which A Landscape belongs was painted in solpah - an enamel roof paint- on hardboard. Most hover ambiguously between abstraction and realism, and were restricted in colour. John Caselberg wrote to Charles Brasch (March 1959): 'These paintings are stark, like all his work; but they are so delicately painted. Mostly black & white; but with many variations on this, & many traces of delicate colour. His artistic vision is so fierce & sharp: so unlike anything else in N.Z….'
A Landscape is tall and slender with stacked horizontal bands of light and dark which may represent landscape features. The most striking feature is a dark curved column dividing the top-most rectangle. Its exact significance is uncertain but, read as landscape, it could be a water-spout, rising from a dark ocean. Whatever precisely it signifies it adds a dynamic vertical element to the banded horizontals of this sombre and majestic painting from McCahon's annus mirabilis.
PETER SIMPSON