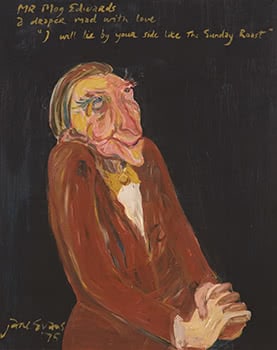 51.
Jane Evans
Mr Mog Edwards (Under Milkwood Series)
Acrylic on board
75 x 60 cm
Signed, inscribed & dated 1975
est. $6,000 - 8,000
Fetched $6,000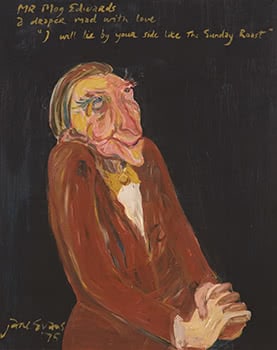 Relative size
Mr Mog Edwards is a character from the Dylan Thomas radio play, Under Milkwood. Jane painted the entire cast for a major exhibition in 1975. This was an ambitious undertaking and made a strong impression.
Under Milkwood was a stunning series. Theatrical in their impact, these forceful, vigorous paintings interpreted Thomas's glorious array of slightly crazed villagers in sympathetic, vivid images.
Jane Evans, John Coley, Hazard Press, 1997
Mr Mog Edwards - The draper, enamoured of Myfanwy Price. Their romance, however, is restricted strictly to the letters they write one another and their interactions in their dreams. Dylan Thomas