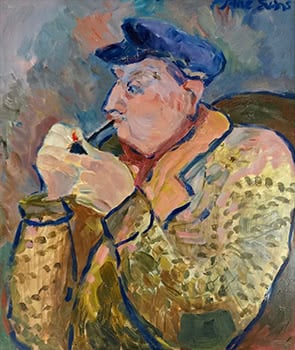 57.
Jane Evans
Old Man with Pipe, 1981- (Portrait of the Artist's Father in a Blue Cap)
Acrylic on board
66 x 56 cm
Signed
est. $7,000 - 10,000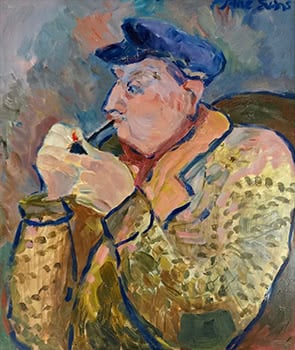 Relative size
Jane Evans father Dr George Evans (1897 - 1995) An old style family doctor
Jane enjoyed being with her father who was a remarkable person. Although projecting an aura of quiet unhurried professionalism, an image heightened by his frequent stroking of and puffing on his pipe, he was in fact an energetic man involved in a range of community affairs. Besides his viola playing in the Nelson orchestra, he was at various times surgeon for the St John Ambulance Brigade, Medical Advisor to the Nelson Crippled Children Society and a supervisor of the National Marriage Guidance Council.
People of every description became the subjects of Jane's art. Sometimes an elderly gentleman, depicted with a flourish of painterly strokes, impasto over glaze, tweedy textures suggested with a few confidently applied slashes, the colours muted, descriptive of mature solidity of character, is very much an evocation of her father. p. 66 Jane Evans, John Coley, Hazard press, 1997