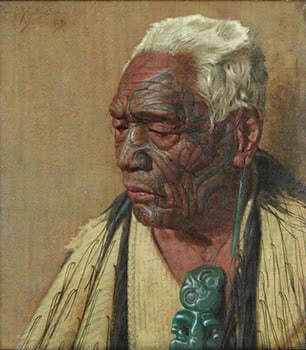 5.
Charles Frederick Goldie 1870 - 1947
A Chieftain of the Arawa Tribe - Wharekauri Tahuna
Oil on canvas
47 x 41.5 cm
Signed & dated 1938
est. $700,000 - 1,000.000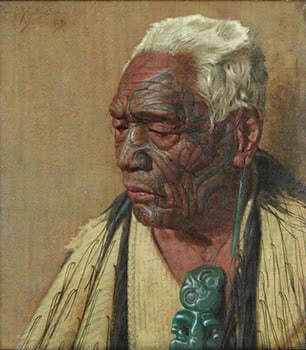 Relative size
Provenance:
Dame Kiri Te Kanawa Collection
Long Term Loan, Auckland Art Gallery, Toi o Tamaki
label affixed verso
As much as Goldie's portraits of Māori are celebrated for their ability to realistically capture the mana and likeness of his sitters, this posthumous painting of Wharekauri Tahuna reveals another dimension of his practice. Here we encounter an immortalised image of Wharekauri, not through the portrayal of any single moment in time, but rather through the artist's participation in an act of multi-dimensional endurance.
Goldie painted a number of portraits of Wharekauri Tahuna over the course of his career. Notably, this kaumatua was the subject of what is believed to have been the artist's last ever portrait, executed in 1941. Though it was not unusual for Goldie to paint multiple portraits of individuals with whom he had maintained good relationships, the significance of his connection with Wharekauri as one which bookended his artistic journey with Māori must not be understated.
It is possible the two met in 1901, when Goldie visited Rotorua and asked local Māori to sit for him for the first time. Wharekauri lived in Murupara until the age of 102, and has separately been recorded as being of Ngāi Tūhoe and Ngāti Manawa iwi. When two Goldie paintings depicting Wharekauri and Atama Paparangi were accepted for the Paris Salon in 1935, the works (and, by association, his sitters) received considerable media coverage. Newspaper reviews meditated on the character of Wharekauri including his tohunga status. Wharekauri and Atama were described as the finest natives of which he has any records and Wharekauri (with the exception of one other subject) as the most fully tattooed Maori he has ever painted.
The history of Te Arawa waka and Wharekauri's iwi, the replication and dissemination of his identity nationally and internationally, and the artist's decision to repeatedly draw artistic life from photographs of this last of the tohungas all inform this magnificent painting. Depicted in profile with his eyes downcast, the work untethers Wharekauri from any single moment in time to establish him within the collective consciousness of Aotearoa and his descendants.