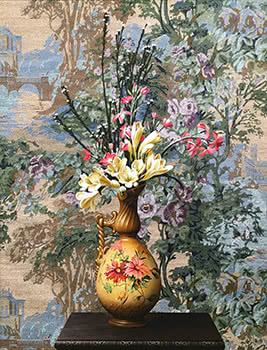 84.
Alvin Pankhurst
I Remember
Oil on board
82.5 x 63 cm
Signed & dated 1980
est. $12,000 - 16,000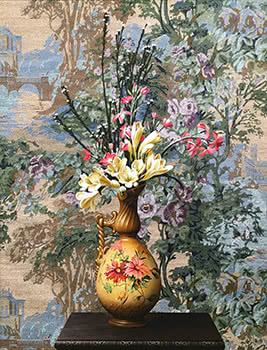 Relative size
Provenance: Private Collection, purchased directly from the artist
Illustrated: p. 124 New Zealand Art and Modern Perspective, Elva Bett Reed Methuen, 1986
I Remember references the artist's mother in which Alvin stated at the time: A flower painting done for my mother who is in hospital and has been there for the last five years. She can no longer hear, see or speak
Alvin Pankhurst revives nostelgia yet paints unsentimental reminders of times past. His old master paintings give a new meaning to technical skill in this era of speed. His paintings of the over-elaborate details of Victoriana are modern day vanitas, for there is the same pronkstilleven (a Dutch term meaning ostentatious display) of still lifes in which objects were used to symbolise death and the transience and the vanity of earthly achievements and pleasures.
When presented with a Pankhurst vanitas we read it in much the same way as the Dutch burghers read their Bibles, searching for confirmation of forgiveness, and we read into the Pankhurst painting what is not there. It becomes a visual documentation of objects half-remembered in a stultifying memory sequence - a surreal/unreal consciousness of the passing of time.
Elva Bett NZ Art and Modern Perspective, Reed Methuen, 1986