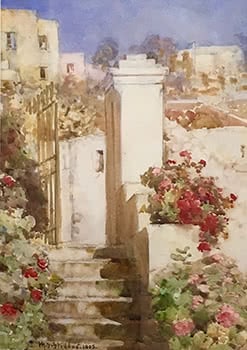 63.
Margaret Olrog Stoddart
A Capri Garden
Watercolour
35 x 25 cm
Signed & dated 1905
est. $7,000 - 10,000
Fetched $8,500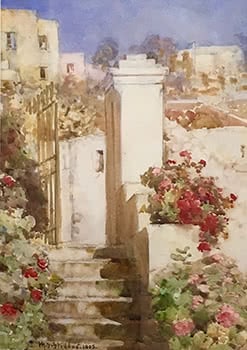 Relative size
Illustrated: p. 79 Flowers Into Landscape Margaret Stoddart 1865 - 1934 Julie King, Haszard Press, 1997
Margaret Stoddart exhibited widely during nine years away: in 1898 with the Royal Birmingham Society of Artists, in 1899 with the Royal Institute of Painters in Watercolour, London and from 1899 to 1900 with the Royal Society of British Artists, London. Although it was mainly landscapes that she exhibited in England, her flower paintings were accepted at the Salon of the Société des
Artistes Francais in 1902-04. From 1905 to 1906 she exhibited in Paris with the more progressive Société Nationale des Beaux-Arts. Before leaving London in 1906, she gained acceptance at the Royal Academy with A Capri Garden, painted in 1905 in her more colourful style.