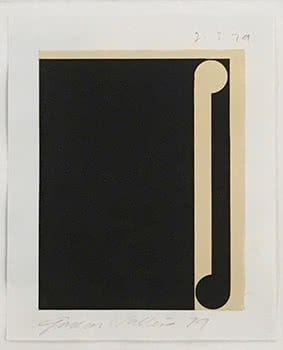 24.
Gordon Walters
Untitled
Acrylic on paper
15 x 12.2 cm
Signed & dated 1979
est. $25,000 - 35,000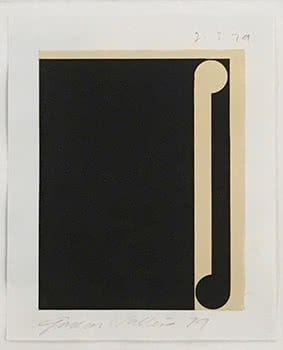 Relative size
Provenance: Private Collection, Auckland Purchased in 1980
Also includes the date 2.3.79 top right on paper
Untitled, 1979 belongs to the high point of Gordon Walters' practice, a period spanning 1965 to 1980. It reveals the synthesis of ideas which define the artist's modernist style. The image is framed by the meticulous form of a koru which pushes dynamically back and forth against the picture plane, its cream colour a few shades off the crisp white most commonly associated with Walters' koru paintings. Added to the fact that it does not have the frenetic energy of the artist's geometrically repetitive paintings, Untitled, 1979 possesses a divergent calmness.
In one respect, Walters' treatment of the koru form relied on its de-contextualisation, which is something he insisted on. As he is often quoted as saying, it was a motif, used solely to demonstrate relations. At the same time, he did not treat the geometric koru with its spherical bulb and linear formation in a purely formal, or rational manner. It is the centrality of irrational ideas which give this work meaning - an idea explored by Luke Smythe in his essay Employing Reason Wisely: Gordon Walters and European Modernism. Walters invites the viewer to encounter the irrational, varying depths of a singular form and hard-edged linearity.
By the late 1970s, the koru had become selfreferential in Walters' work. Its function as a modernist device, plucked from the lexicon of New Zealand's bicultural identity, imbued it with a sense of national artistic meaning. To look at the single koru in this painting, therefore, is to understand that it exists not only in singular conversation with itself, but with its painted ancestors; one manifestation of many possibilities. In dedicating himself to this form, Walters emphasised the breadth of its potential expression.
With the passing of decades and the addition of new voices and perspectives, our modernist identity is being constantly re-examined, and it is no surprise that Walters' work is at the forefront of this conversation. The comprehensive New Vision survey currently at Auckland Art Gallery offers the opportunity to consider the evolution of Walters' practice afresh. We are reminded of the value of these works: not as an extension of European abstraction, nor an appropriation of indigenous form and meaning, but as a unique and vital forging of New Zealand modernism.