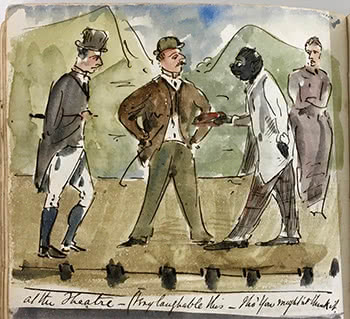 34.
Harold Bullock Webster
An Illustrated Diary of Harold Bullock Webster from 1883
Watercolour & ink, 150 pages
19 x 12 cm
Signed on pg. 149
est. $5,000 - 8,000
Fetched $7,500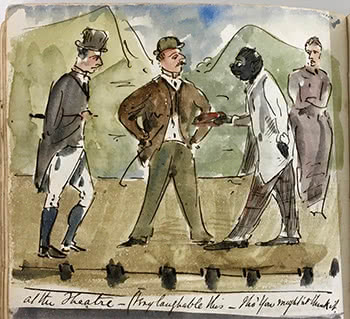 Relative size
Harold Bullock Webster (1855 -1942) was a selftaught painter who worked in Canada, United Kingdom and New Zealand.
Webster was born in England and emigrated to Canada in his teens. He began an apprenticeship as a clerk for the Hudson's Bay Company in 1874. He made many business trips to the Company's posts in the western part of Canada, such as northern Alberta and British Columbia.
By 1878 he managed the trading post at Fort Connelly on Bear Lake in northern British Columbia. In 1880 he returned to Britain then emigrated to New Zealand where he worked as a farmer's agent. On behalf of his employer, Thomas Russell, he travelled to Waikato, the Bay of Plenty, East Coast and Wanganui. At the age of 83, he published in 1938 his Memories of Sport and Travel Fifty Years Ago: From the Hudson's Bay Company to New Zealand.
He made many sketches during his lifetime, although he lacked formal training as an artist. While working at the Hudson's Bay Company from 1874 to 1880, he created an album of approximately 93 colour sketches that portrayed social life, activities, customs, and dress in the Company's posts, particularly near Stuart Lake and Fort McLeod. Several of his sketches show First Nations and Métis people, who participated in the Canadian fur trade. Some sketches were reproduced in The Graphic.
For more information on this piece, please download this PDF (12.87MB)