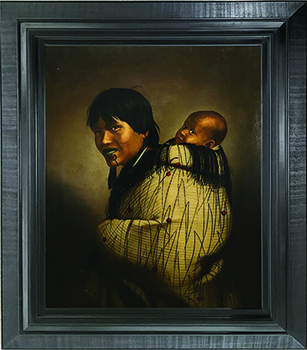 32.
Gottfried Lindauer
Heeni Hirini and Child (previously known as Ana Rupene)
Oil on canvas
86.5 x 71 cm
Signed & dated 1882
est. $150,000 - 200,000
Fetched $199,000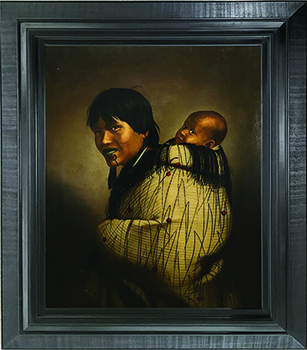 Relative size
Dunedin Public Art Gallery label affixed verso
Provenance: Ex V E Donald Collection
Exhibited: Face Value, Dunedin Public Art Gallery 1975 - Original exhibiton label affixed verso
Heeni Hirini, formerly Ana Rupene, was from Manaia, situated south of Coromandel township and located on the peninsula north of Thames. Her tribal affiliations were Ngati Maru, with links to Tainui in the Waikato. The child on her back is remembered by Hirini's descendants to have lived to his late teens and possessed an ability to recite whakapapa. Hirini is buried at Parakau, Manaia, in an unmarked grave in the Anglican churchyard.
Lindauer painted almost identical versions of the painting, possibly creating up to thirty images of the subject, some of which he shipped to Prague, New York and London. The painting of Heeni Hirini was awarded a gold medal by an international jurors committee; it was given to Henry Partridge, rather than to the artist. The media attention both abroad and at home intensified admiration for the portrait, spurring Lindauer to paint it repeatedly.
The basis for Lindauer's portraits of Heeni Hirini was a cabinet photograph by the Foy Brothers (James Foy, 1844-90, and Joseph Foy, c. 1847-1923), probably taken at their Thames studio. A consistent motif in all versions of this subject is the wisp of hair that extends from her crown. Hirini's strong jawline is emphasised by her moko kauae and the light falling on her high cheekbones suggest a breaking smile. The same treatment is given to the child, with light shaping the scalp, nose and cheeks to impressive effect. The woven garment wrapped around the child was a conventional Maori way for mothers to carry their children securely.
Text plate 29, Gottfried Lindauer's New Zealand, The Maori Portaits
edited by Ngahiraka Mason and Zara Stanhope. Auckland Art Gallery 2017