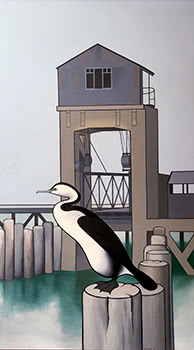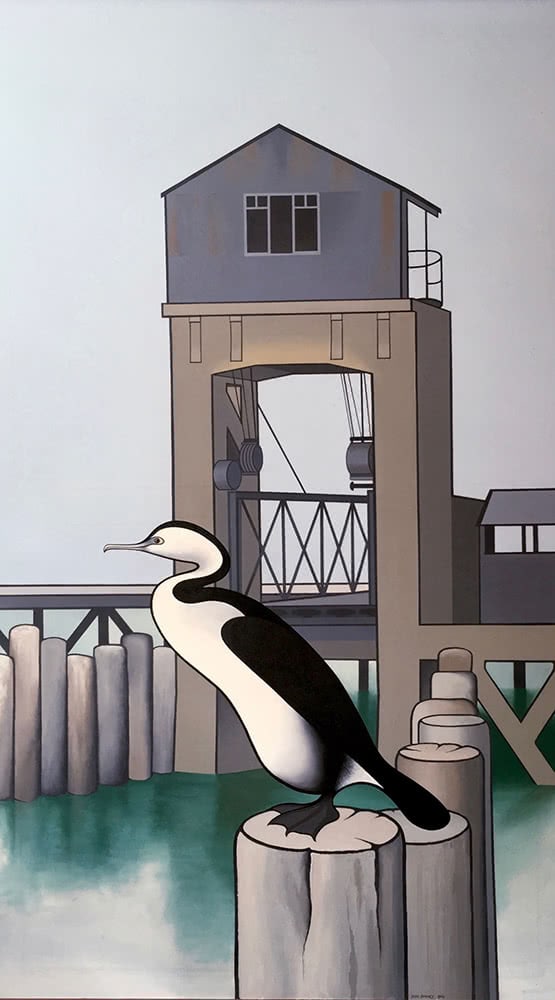 23.
Don Binney
Shag and Vehicular Ferry
Oil on canvas
187 x 110 cm
Signed & dated 1969
est. $350,000 - 450,000
Fetched $350,000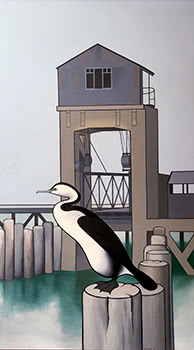 Relative size
Provenance: Purchased from Barry Lett Galleries, 1969
Don Binney is often associated with paintings of soaring birds against defined horizons, framed by minimalistic beaches and coastlines. Birds as icons of our national past, present and future. Shag and Vehicular Ferry is wonderfully rare in that it can actually be attributed to a particular moment and place within New Zealand's narrative.
Looking out to Waitemata Harbour, the shag is shown perched on a wharf piling, hemmed in by the architecture of Devonport's old vehicular ferry terminal. As viewers, we feel the momentary nature of this chosen resting place; there is something poised and fleeting in the bird's elegant stance. Binney has painted this work with typical clarity and brightness, giving importance to both the creature and the surrounding infrastructure.
From an architectural point of view, it is interesting to reflect on the painting's place within the context of regionalist art in New Zealand in the late 1960s. Shag and Vehicular Ferry has a remarkable stylistic affinity with the work of Binney's contemporary Robin White.
In the stillness of this work, it seems that Binney's aim was not to rail against industrialisation or overtly juxtapose the elements of old and new; nature and man-made in this work. At first glance, and particularly through its linearity and freshness of composition, the ferry terminal appears relatively untouched by age. It is only on closer examination that the painting's light reveals metal glinting with rust, and yes, there is something of an eerie emptiness to the structure. An atmosphere in direct contrast to the powerful, life-filled, life force of Binney's magnificently portrayed black and white shag.
When the Auckland Harbour Bridge opened in 1959, a number of Devonport's ferry services were cancelled. Describing the childhood memory of the final vehicular ferry crossing from this point, one former passenger reflected on how often the queue for the car ferry would stretch from Victoria Wharf along King Edward Parade past the Masonic Hotel and almost to North Head.
Cars could be stopped for up to fifteen minutes at a time before edging forward a few hundred metres. In 1969, exactly ten years after the service was stopped, the terminal remained in place like an empty memory, and this is what Binney looked to.