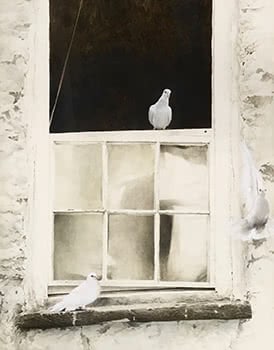 44.
Raymond Ching
Main House, 1976
Watercolour & gouache
71 x 55 cm
Signed
est. $15,000 - 20,000
Fetched $23,000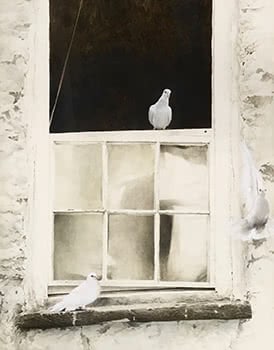 Relative size
Provenance: Purchased by current owners family from exhibtion Paintings & Drawings, International Art Centre, 1977
Illustrated: p.69 Raymond Ching Recent Paintings & Drawings, Catalogue published for the exhibition of May 1977 at International Art Centre, Folio Prints, 1977 p.54 Ray Harris-Ching Masters of the Wild, Gulf Publishing, 1990
Nothing squares up anymore on this old house, but it all holds together and forms part of a courtyard of ancient barns, around which flocks of doves add life and movement.
Ray Harris-Ching, Master of the Wild, Gulf Publishing Company, 1990