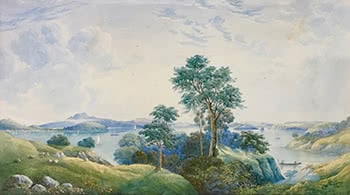 66.
John Barr Clarke Hoyte
Judges Bay
Watercolour
37 x 66 cm
Signed
est. $10,000 - 15,000
Fetched $11,000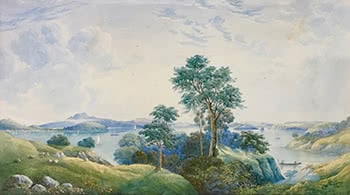 Relative size
HISTORIC WATERCOLOURS FROM THE LATE ARTHUR THOMAS PYCROFT LOTS 66 - 70
Arthur Pycroft (1875 -1971) was an early naturalist, scholar, historian and conservationist. He attended the Church of England Grammar School, Parnell where his father was headmaster from 1883 to 1886. During this time the family lived in the headmaster's residence, now Kinder House. Young Pycroft also attended Auckland Grammar School. In 1896 he joined the Auckland Institute, a society established to encourage the study of literature and science along with the establishment of a museum and library. A member of the Institute for over 75 years, Pycroft became President in 1935.
Throughout his professional life, Pycroft was well respected, collaborating with the colony's leading scientists and naturalists of the day. He enthusiastically corresponded with Sir Walter Buller regarding Buller's rediscovery of the Little Black Shag and other species later introduced in Buller's 1905 supplement. The compilation of information of native wildlife had seen him spend six weeks on the Hen and Chicken Islands during the summer of 1903-04. In 1928 he explored Little Barrier Island, visiting the Kermadecs with Guthrie Smith in 1929 and in 1932 travelled on an expedition to Melanesia. Arthur Pycroft was given recognition for his long service to ornithology when Sir Robert Falla named a newly discovered species of petrel (Pterodroma pycrofti) after him. It was during the expedition he had organised to Hen Island that the birds had been discovered. A member of the Moa Searching Committee, Pycroft sought evidence that Moas had been hunted by the Polynesian invaders. This quest took him from Doubtless Bay to the limestone caves of the King Country and Waikaremoana where he was able to prove that a large pelican had once lived in New Zealand. Another great interest of his lay in Auckland and Far North regions whose history and development he studied closely for more than eight decades, an enthusiasm reflected in the rarities in his collection. All in all, Pycroft was a fascinating character, a man of intellect whose wide and varied interests embraced the world of natural history and art.