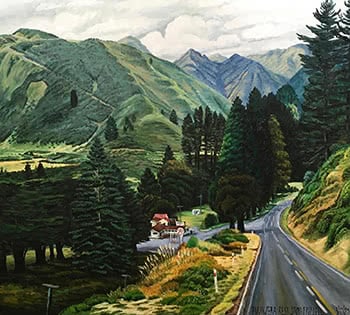 15.
Dick Frizzell
Tarawera Rest Stop
Oil on canvas
150 x 171.5 cm
Signed, inscribed & dated 3/10/1989
est. $30,000 - 40,000
Fetched $38,000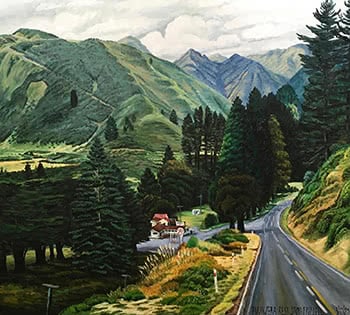 Relative size
Provenance:
Corporate Collection, Auckland
Illustrated:
p. 78, Landscape Paintings of New Zealand: A Journey from North to South, Christopher Johnstone, Random House New Zealand, 2006
p. 122,, Landscape Paintings of New Zealand: A Journey from North to South, Christopher Johnstone, Random House New Zealand, 2013
The Tarawera Rest Stop is the approximate half way point on State Highway 5, also known as the
Lot 15 Reprinted from Landscape Paintings of New Zealand. A Journey from North to South (2013, Random House NZ) with kind permission of the author Christopher Johnstone
It took Dick Frizzell 11 years after graduating from Canterbury University School of Fine Arts in 1963 to become a full-time artist. He moved to Auckland, completed his teacher training in 1966, and embarked on a career as a commercial artist, first in animation, then advertising. In 1975, Frizzell exhibited for the first time in Barry Lett Galleries' New Year New Work and the following year he had his first solo exhibition there: A-Fishial Art Show. From that time Frizzell had a solo exhibition almost annually. In 1978 a QEII Arts Council travel grant enabled him to tour the US and on his return he was appointed to a part-time lectureship in painting at Elam School of Fine Arts, University of Auckland.
Frizzell came to greater attention when he was included in New Image: Aspects of New Zealand Painting at the Auckland City Art Gallery in 1983. Since then he has developed a reputation of being one of the mavericks of New Zealand art. A talented painter and an imaginative image-maker, he always surprises by pulling off feats of artistic legerdemain, sometimes controversially, such as in 1992 with his exhibition Tiki. Then came a breathtaking development for an artist immersed in popular imagery, his 1989 exhibition of landscape paintings at Gow Langsford Gallery, Auckland. Allan Smith later wrote about the reaction: "Many regard Frizzell's landscapes as a critical aberration . . ." and thought that Frizzell "is abandoning the difficult heights of respectably serious art for the lowlands of easy popularity and commercial gain".
In 1987, Frizzell had been unwell, and to paint himself out of artist's block during recuperation he started to paint the landscapes which occupied him for the next four years. While it is reasonable to view a painting like Tarawera Rest Stop as gently ironic, Frizzell's grasp of the essential characteristics of the region and his immaculate handling of paint over such a large surface result in an effect that is totally persuasive and convincing, if mildly humorous.
Tarawera is the same volcanic region on the Napier-Taupo Road that attracted Christopher Perkins and is one of Frizzell's favourite "catchment areas".
When he saw a potential motif Frizzell would stop the car and take a photograph: "I used to draw a lot from the photo when I got back to the studio . . . shrinking and squeezing . . . cranking up the 'significant forms' that caught my eye in the first place . . ." He frequently had to "squeeze up the width of the road in the immediate foreground as it usually occupied the entire baseline of the composition . . . and I would 'extrapolate' the verges on either side to fill the spaces left . . ." Frizzell also used the traditional conceit of balancing the small area of red - the roofs - against the large expanse of trees in complementary green, "even scaling down the cluster of buildings to play it up!"
Frizzell explains that he "modelled the whole 'look' on the Eastern European primitives", and his first prototype for the landscapes was an illustration for Denis Glover's poem 'The Magpies'.