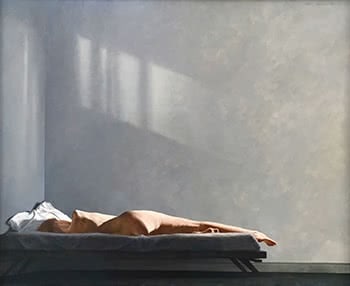 51.
Grahame Sydney
Catherine Sleeping
Oil on linen
58.5 x 71.5 cm
Signed, inscribed Dunedin & dated 1987
est. $45,000 - 65,000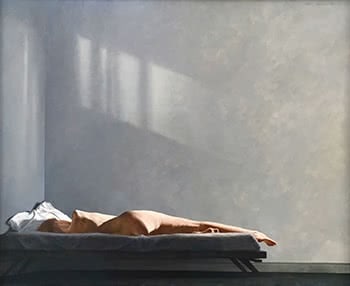 Relative size
Provenance:
Private Collection, Christchurch
Purchased from Watsons, 2007
Grahame Sydney was born in Dunedin in 1948 and began his full-time art career in 1974. He is one of New Zealand's preeminent artists, and works skilfully across numerous media including oil, watercolour, tempera and lithograph.   There is a feeling of essentialism to Sydney's work, which is rooted in both the choice of subject matter and photorealist style. It confirms him as an artist both of and for New Zealand, and is reflected in everything from the monumental timelessness of Otago landscapes to the lyrical allure of his painted nudes.     Sydney's nudes are often shown with their backs turned to us; their faces concealed. He places them in minimalist rooms and invites the viewer to contemplate the purity of form, and the energy which a single human body can instil in a moment. Often, we meet with these bodies as they are getting dressed (or undressed), and the viewer's role as potential voyeur unfolds.     The critical and public acclaim which Sydney has received over the course of his career is testament to his enduring contribution to New Zealand art. He was also made a Frances Hodgkins fellow in 1978, and an Officer of the New Zealand Order of Merit for services to painting in the 2003 New Year Honours.