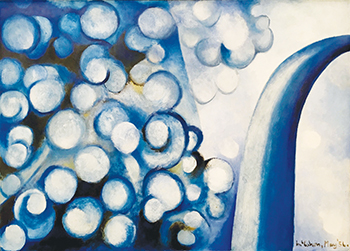 32.
Colin McCahon
The First Waterfall
Oil on hardboard
54.7 x 76.3 cm
Signed & dated May 1956
est. $200,000 - 300,000
Fetched $237,000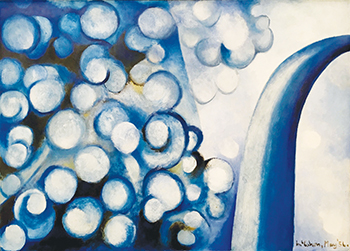 Relative size
Provenance:
Private Collection
McCahon database record number cm000248 www.mccahon.co.nz
When thinking about Colin McCahon, we are inclined to associate the term waterfall with the artist's iconic series from the 1960s. The First Waterfall, however, belongs to a separate period. For McCahon, the impetus for creating this work was not part of a seriesbased exploration, but a by-product of his Titirangi years. Evoking a feeling of ancient, testamental origin, the work's title has an almost biblical quality. It speaks to McCahon's desire to communicate with the land through a language of natural and universal symbolism. The bulbous blue and white forms comprising the waterfall - each little droplet of water existing in a sphere of its own newness and purity - also possess a spiritual quality, and recall the artist's kauri paintings. Part of what makes The First Waterfall so interesting is that it was produced during a quieter period of artistic output for McCahon. In 1956, the focus of his work was largely on drawing, and he completed relatively few paintings throughout that year. Perhaps it was because this time represented a watershed for the artist as he was restlessly looking to develop new ideals. By this point in his career, his relationship with cubism had been clearly developed. The First Waterfall was created after McCahon's original forays into cubist treatments of landscape, notably the French Bay Series, and following his preliminary explorations of text in painting which were to culminate in the Elias Series. While this is an exceptionally solitary work, it should also be appreciated as a precursor to the later Waterfall works. From the perspective of subject matter and the artist's spiritual connection to the land, it is interesting to compare this with the later series. While McCahon's 1960s paintings were characterised by singular stylised waterfalls cutting across the canvas plane, often depicted with a sharpness reminiscent of Barnett Newman's zip paintings (these works represent McCahon's keenest take on Abstract Expressionism), in the case of The First Waterfall it was clearly a unified expression of fluidity and ambiguity; an exquisite interplay of light and colour and immersive depth which the artist sought to prioritise.