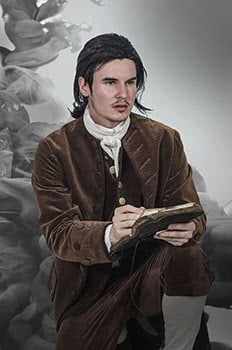 8.
Lisa Reihana
Williams Hodges (in Pursuit of Venus)
Pigment print on paper, edition of 5
126 x 84 cm
Signed verso
est. $8,000 - 12,000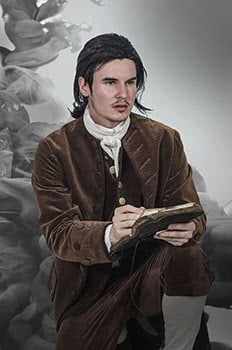 Relative size
Provenance:
Fehily Contemporary at Auckland Art Fair May 2016
Exhibited:
Lisa Reihana: Cinemania, Campbelltown Arts Centre, January - March 2018 Sydney Arts Festival, 2018
Critically acclaimed and openly acknowledged as one of the most important artworks produced by a New Zealand artist this century, In Pursuit of Venus is a multi-disciplinary masterwork exploring the events, cultural contact and narratives of Captain Cook's three voyages, and in that process of revisiting our identity and history are illuminated.
Over ten years in the making, In Pursuit of Venus was a massive undertaking involving hundreds of actors. Each scene and event was individually choreographed, every actor costumed. Built sequence by sequence, frame by frame, involving studio filming, photography and other media techniques, the mesmeric visual dexterity and artistic cohesiveness achieved belies the works technical complexity. Maori Chief (In Pursuit of Venus) reveals the modern sensibility that underpins the entire work. Here, the imperial gaze has been turned back and repackaged. Maori identity is celebrated, social structure revealed as aristocratic and continuous, with the abstract language forms (chevron patterns, moko, thigh tattoo) and objects (cloak, tiki, patu, feathers) shown as fundamental to and expressive of a unique and significant cultural identity.