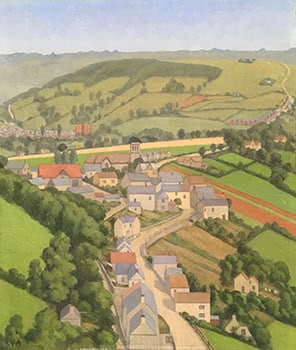 44.
William Henry Allen
Cotswold Village
Oil on canvas laid on board
44 x 37 cm
Signed
est. $4,000 - 6,000
Fetched $2,000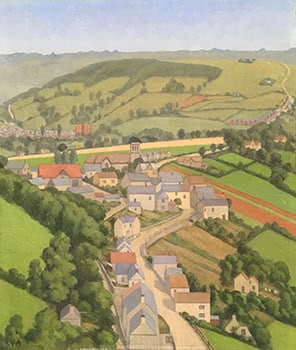 Relative size
Provenance:
Sheila Allen Estate Collection
William Henry Allen (1894-1988) was one of a group of British art teachers recruited in the 1920s by William Sanderson La Trobe, the nation's Superintendent of Technical Education, whose intention it was to greatly improve the quality of art education in New Zealand. W H Allen had attended London's Royal College of Art from 1919 to 1923. His contemporaries there included Henry Moore and Barbara Hepworth; fellow students Roland Hopkins, Jenny Campbell and Robert Nettleton Field also immigrated to New Zealand and became lifelong friends. The contribution of the La Trobe artists, particularly W H Allen and R N Field had an on-going and profound effect on the development of New Zealand art. Their teaching of early modernism opened the door to an avant gard post-impressionist period in New Zealand's art history. They influenced artists such as Toss Woollaston, Colin McCahon and Doris Lusk who embraced these new ideas, attitudes and techniques. Hocken Librarian Sharon Dell says the influence of W H Allen and his fellow La Trobe teachers produced landscapes and portraits in a style that was at first deeply unacceptable to painters and art societies in New Zealand - still entrenched in their Victorian style of art. W H Allen taught in Dunedin and Nelson. He was President of the Suter Art Gallery Society, teaching Workers Education Association (WEA) classes and participating in the Canterbury Summer Schools which attracted artists Doris Lusk and Leo Bensemann to Nelson. Colin McCahon and Toss Woollaston also regularly spent their summers there. After returning to England in the late 1930s, W H Allen's art and reputation as a teacher were all but lost and until recently, little research done on his contribution to New Zealand art. Following the family's return to England in 1946 W H Allen taught at the South West Essex School of Art, London, retiring in 1961. In 2008 a significant collection of W H Allen's work was repatriated from the United Kingdom and gifted to Dunedin's Hocken Library. The Tui Rata Frowd bequest contained about 80 artworks including oil paintings and works on paper, and a large archival collection of letters, correspondence, photographs, catalogues and articles relating to William Allen. In 2015 the Hocken Library held a major exhibition, W H Allen & The La Trobe Effect. This exhibition shone a light on W H Allen's contribution to the emergence of early regionalism in New Zealand. In addition to showcasing W H Allen's practice the show included works by his La Trobe peers, several of Allen's students and a sample of work by the early twentieth century British artists associated with the Camden Town Group whose post-impressionist style and subject matter inspired W H Allen, his peers and a swathe of this country's regionalist painters. International Art Centre wishes to thank Robyn Notman and Sharon Dell of Hocken Library for their assistance.
Sheila Allen was the daughter of W H Allen. She was born in New Zealand in 1926 and lived in Dunedin until the age of four. The family then returned to England, remaining there for three years until her father was offered a teaching position in Nelson. Shelia remembers her New Zealand childhood as idyllic. Most of her life was spent in England, where she trained to be a silversmith in her 70s. Travelling to New Zealand for the opening of the W H Allen exhibition, Shelia delighted everyone with the information and personal stories relating to her father and his work, she died in early 2018.