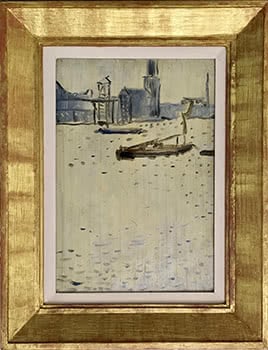 49.
Raymond McIntyre
Chelsea
Oil on panel
31 x 22 cm
est. $15,000 - 25,000
Fetched $38,000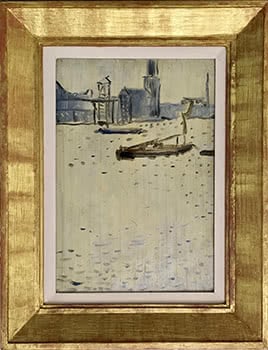 Relative size
Provenance:
Acquired directly from the artist by Major Frederick Charnley, MC, Indian Army, RWF, RA, RE who lived in Chelsea, London at the time when McIntyre was painting there. Charnley family collection, Europe
Raymond Francis McIntyre was born in Christchurch in 1879. The musical and artistic McIntyre family lived in central Christchurch, and later in the suburb of New Brighton. The artist's father, George McIntyre was mayor of New Brighton Borough in 1901-2. Raymond was educated at Warwick House School until the age of 15 when he went to the Canterbury College School of Art where he studied under Alfred Walsh and Robert Herdman-Smith until 1908. Progressive local painters had formed a sketch club which McIntyre joined. Sydney Thompson, recently returned from four years' studying and working in Europe, was also a member and the group met regularly at his studio in Cambridge Terrace. McIntyre was able to observe the fresh techniques of impressionism in 1906-7 when 20 works by the New English Art Club painters were shown at the New Zealand International Exhibition in Christchurch. He had been exhibiting landscapes and portraits regularly with the Canterbury Society of Arts since 1899 and by 1908 his loosely brushed paintings blended influences from Petrus van der Velden with English impressionism. Local critics were not always impressed. This lack of critical and local artistic success seems to have convinced McIntyre that he should pursue his artistic career in Britain. Arriving in London in February 1909, McIntyre began a period of intensive study and painting. He was taught by William Nicholson, George Lambert and Walter Sickert, among others. He also became socially active in London's artistic, literary, musical and theatrical circles. He exhibited frequently over the next decade, especially at the Goupil Gallery Salon, the leading international gallery in London at the time. His work diversified in content to include street scenes, a subject McIntyre shared with the Camden Town Group, though his techniques differed greatly from these artists. From late 1920 he also began to paint rivers and parks. He continued exhibiting at the Goupil Gallery Salon and finally had a painting accepted for exhibition at the Royal Academy of Arts in 1924. He ceased to exhibit his work after 1926 although he still painted for his own enjoyment.
McIntyre was also a writer, printmaker, photographer, theatre and music critic. In 1923 he began contributing art reviews to the London journal Architectural Review. Artists he singled out for praise included Ben Nicholson, Ferdinand Hodler, Erich Heckel and Paul Signac. It was not until several decades after his death that his own achievements were fully recognised. Colin McCahon was a key figure in this process, in 1962 he helped organise an exhibition at the Auckland City Art Gallery, Six New Zealand Expatriates which included twelve of McIntyre's paintings. In 1984-85 the same gallery organised a retrospective of McIntyre's work. Stylistic similarities can be found between McIntyre's fauvist works painted around 1918 and held at the Auckland City Art Gallery - and the early works of Toss Woollaston, or of McCahon himself. McIntyre's paintings featured twice on the cover of Art New Zealand during the 1970s. McIntyre never married, he died in London on 24 September 1933. Along with his family he had become a member of the Church of Christian Science soon after the first congregation was formed in New Zealand in 1907. Believing that disease could be healed by faith, he had not had a curvature of his spine treated and in 1933 refused an operation which resulted in his death.