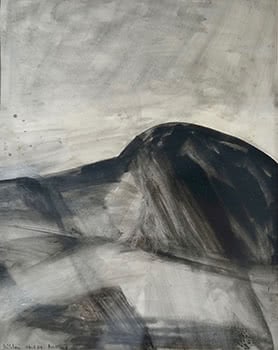 52.
Colin McCahon
Northland, April 59
Brush, ink on paper
62 x 49.5 cm
Signed, inscribed & dated 1959
est. $32,000 - 38,000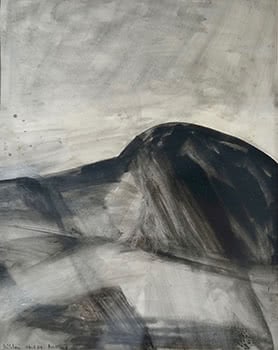 Relative size
Provenance:
Peter McLeavey Collection
Bootham Collection, Wellington
Inscription verso reads; From the Collection of the artist, to Peter McLeavey to Ivan Bootham
Exhibited: 1959 Colin McCahon. Recent Paintings, November 1958 - August 1959 Gallery 91, Christchurch 6/10/1959 - 18/10/1959
This work on paper from McCahon's Northland Series precedes art historical explanation. Partly, this is because it is so instantly recognisable in both subject matter and style - Northland, April 59 captures the essence of McCahon's deeply spiritual relationship with the land. It expresses the purity of that point of convergence between sky and landmass. McCahon's use of an ink on paper medium lends immediacy to this work: a raw aesthetic smudginess to the conception of Northland geography which the artist knew intimately. And directly his ability to transcend our human condition, and express something of Aotearoa's unique identity - not in a nationalistic sense, but through a more broadly existential lens. The richness and evolution of New Zealand's art tradition is built on a foundation of intermediary dialogue and exchange. At the very heart of this is the path forged by Colin McCahon. The physical trajectory of Northland, April 59 is emblematic of this - its market origins were with Gallery 91, Christchurch, Peter McLeavey Gallery, and the work has since been part of the renowned Bootham art collection.