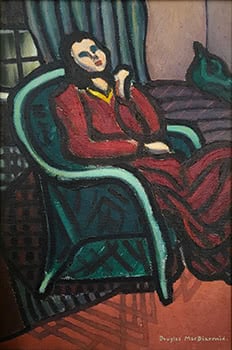 58.
Douglas MacDiarmid
Girl in a Chair at Night (Danuta), 1947
Oil on canvas
31.5 x 21 cm
Signed
est. $5,000 - 7,000
Fetched $6,500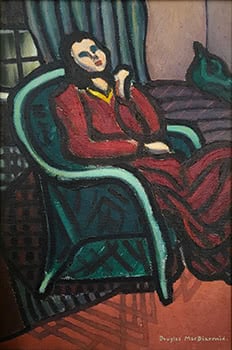 Relative size
Provenance:
Judith Anderson Collection
Reference:
Colours of a Life, the Life and Times of Douglas MacDiarmid, Anna Cahill, 2018 Art History MacDiarmid, Dr Nelly Finet, 2002
The subject of this painting, The Girl in a Chair at Night is Danuta, Douglas MacDiarmid's married lover in London during the 1940s. She was one of a number of highly cultured Polish war refugees he tutored in English on his first overseas stay. For Douglas, swept up in their dislocation and intensity, Danuta was London. A journalist and academic, she was a stunning, intellectual and quite manipulative individual who came and went from Douglas' life causing his long-time partner Patrick more grief than any of Douglas' other female friends. Fifteen years after their time in London, MacDiarmid and Danuta resumed their volatile relationship, remaining close, despite arguments and personal conflicts, until her tragic death in a traffic accident in Bangkok in 1988. Girl in a Chair at Night was brought to New Zealand in 1949 when MacDiarmid returned here for a year. He then settled in France and has lived there for decades, based in Montmartre where he continues to paint and exhibit now well into his 90's. A similar painting remains with Danuta's family in the United States. In the 2002 publication, Art History MacDiarmid, published in both french and english, Dr Nelly Finet of Paris writes about this painting: A certain elliptical refinement of drawing, choice of object, general composition, reveal now the influence of Matisse…..Danuta, comfortably settled in an armchair, holds the book just read. Finet notes that the face is not the main objective; rather, in the manner of Bonnard, there is the implication of inner life evoked through this intimate unity.
Thanks to Anna Cahill, author of Colours of a Life, the Life and Times of Douglas MacDiarmid, 2018