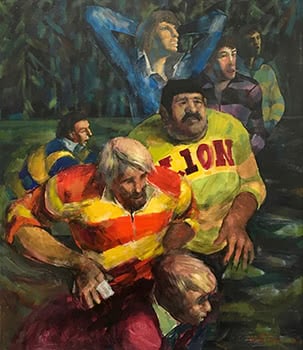 37.
Garth Tapper
Rugby Players, East Coast
Oil on canvas board
110 x 94.5 cm
Signed & dated 1990
est. $25,000 - 35,000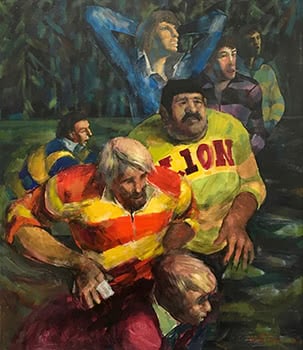 Relative size
Provenance:
Private Collection, Auckland
Purchased from artist, 1986
Lots 36 and 37 speak to Garth Tapper's status as one of our nation's great visual storytellers, and it is interesting to compare them. In the case of the impressive Dawn Parade, Puhoi, there is a sense of stiff formality to the figures. Having donned their suits and medals they have lined up in front of the local pub. This somewhat rigid alignment of four men brings a sense of reverence and commemoration to the early morning event. Two are pale-faced; two are ruddy-cheeked; all are solemn. Inside, we can make out the profile of a woman, likely a pub owner or worker. Her presence adds depth and complexity to this scene, in which the full complement of a limited colour palette has been utilised. This was one of a series of Puhoi works Tapper completed. While harnessing the expressive capacity of monochromatic grey was an impressive skill of Tapper's, he also revelled in the liberal use of colour. This is clearly so in Rugby Players, East Coast, where clarity of palette has been replaced by an emergent quasi-cubist chaos, and spatial logic abandoned. A Ruatoria match plays out in full force, with monumental figures physically clashing. Though pictured as hulking and in motion, the players appear to each be looking in different directions, almost arrested in mid-air by their thoughts. Throughout his career Garth Tapper developed aspects of both cubism and formal realism in his work. The application of these different styles is reflected in these two paintings. However, it was the artist's choice of subject matter and his ability to capture cultural snapshots and insights into New Zealand life which set his work apart. Tapper excelled in capturing the essence and energy of his subjects, weather it be sports matches, get-to-gethers at the local pub, the drama of the law courts or scenes from rural life, he had the ability to go to the heat of the matter, instilling his work with an enduring sense of nationally resonant truth.