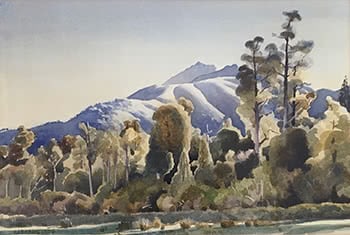 105.
A Austen Deans
Mount Hutt, Canterbury
Watercolour
34.5 x 52 cm
Signed & dated 1973
est. $2,500 - 3,500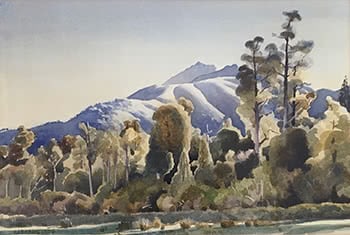 Relative size
Alister Austen Deans was born in Riccarton House, Christchurch, and grew up near Darfield. From 1934 to 1938 he attended the Canterbury College School of Art where he came under the influence of Archibald Nicoll, Cecil Kelly, Evelyn Page and Colin and Rata Lovell-Smith. In 1939, as part of the advance group of the First Echelon in the New Zealand Infantry he left for Egypt. Whilst at war he continued to paint, sending finished pieces back to New Zealand. He was captured in Crete and spent the rest of World War II in prisoner-of-war camps in various locations.
At the end of the war he returned to New Zealand and with money from a War Rehabilitation Bursary went to England with his wife Elizabeth Hutton to attend the Sir John Cass College in 1948 and 1949.
Once back in New Zealand he and his family settled at Peel Forest. In his lifetime A A Deans has exhibited widely and was recognised as one of New Zealand's foremost landscape artists. His passion for and intimate knowledge of the rugged South Island landscape, via his tramping and climbing is translated through a legacy of work.