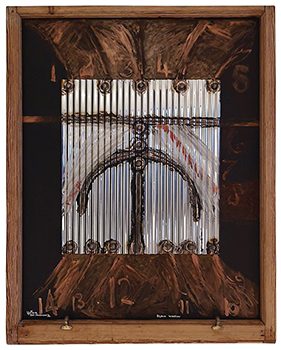 101.
Ralph Hotere (1931 - 2013)
Black Window
Acrylic, stainless steel & hardboard in colonial sash window frame
133 x 106 cm
Signed, inscribed Port Chalmers & Black Window & dated 1984
est. $120,000-160,000
Fetched $120,000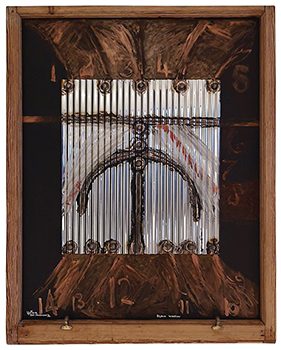 Relative size
Signed, inscribed Les Saintes Maries / De La Mer & dated '87 verso
To be sold as Lot 47a
PROVENANCE
Private Collection since 1992
ILLUSTRATED
p. 229 Ralph Hotere, Ron Sang Publications, 2008
Ralph Hotere (Te Aupōuri and Te Rarawa) was born in Mitimiti, Northland. He attended Auckland Teachers' Training College, moving to Dunedin in 1952 to study at the Dunedin School of Art. In the late 1950s Hotere worked as an arts advisor for the Education Department in the Bay of Islands. In 1961 he gained a New Zealand Art Societies Fellowship and travelled to England where he studied at the Central School of Art and Design, London. From 1962 he studied in France and travelled through Europe, returning to New Zealand in 1965. In 1969 Hotere was in Dunedin to take up the Frances Hodgkins fellowship. It was here that he met poets Bill Manhire and Cilla McQueen. McQueen and Hotere were married from 1974 to 1986, she is the source of some of the most political text he uses in his works. Hotere's Black Window series is titled after a McQueen poem.
Hotere's Black Window paintings originated as a protest in the early 1980s against the proposed aluminum smelter at Aramoana. Threatened destruction of the natural beauty of the area were issues of grave and personal concern to Hotere. The sweeping view from his studio on Observation Point took in the harbour's stretch and the long tapering of Aramoana at their northern side. The Black Window series symbolises an outlook under threat, black- painted hardboard squares are set into weathered window frames with each picture carrying its own subtle complexities. Such works and wide-spread public protest led to the eventual abandonment of the project. The powerful historical and aesthetic relevance of Hotere's work is embodied in his Black Window series.
To be sold as Lot 47a