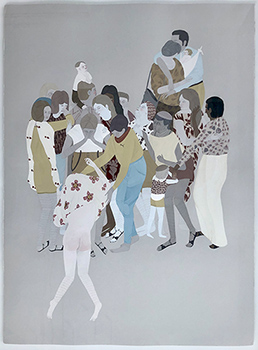 162.
Kushana Bush (b.1983)
Man Renouncing His Shirt
Gouache & pencil on paper
76 x 56 cm
Signed & Inscribed verso, 2011 from all things to all men
est. $6000 - 8000
Fetched $9,250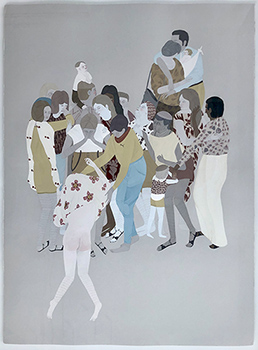 Relative size
PLEASE NOTE: LATE ENTRY
THIS WORK WILL BE SOLD AS LOT 59A
Provenance: Purchased from Brett McDowell Gallery
Exhibited: Kushana Bush, All Things To All Men, Hocken Library, Dunedin, 2011, and Pah Homestead, TSB Wallace Arts Centre 2012
'Where Do I End and You Begin', Edinburgh Art Festival, Scotland, 1 August - 14 October 2014
From the Hocken exhibition the text read as follows: Kushana Bush's latest satirical paintings playfully tout the impossible task of satisfying everyone's needs. Their delicate and alluring surfaces conflate disparate cultures, unsettle simplified notions of East and West and cut across cultural difference. Inhabited by a multi-cultural cast of characters, her amusing and imaginative group portraits draw on a range of art styles and epochs from Giotto's fourteenth century frescoes and erotic Japanese Shunga art to Indo-Persian miniatures and the twentieth century paintings of Englishmen Stanley Spencer. Bush's cosmopolitan art brings together constituent elements from all over the world in order to inventively reconfigure the geographical, political and social landscape of our time.