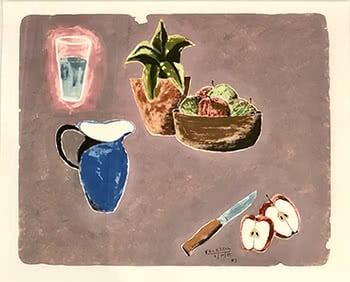 93.
Dick Frizzell (b. 1943)
Blue Vase
Monotype
54.5 x 67 cm
Signed, inscribed #3 & dated 6/10/99
est. $1,500 - 2,500
Fetched $2,100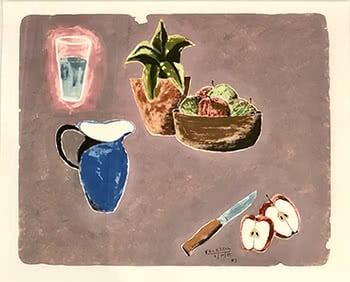 Relative size
Works from the Frans Baetens and Magda Van Gils Collection
International Art Centre is delighted to offer works from the Private Collection of Muka Studio founders Frans Baetens and Magda Van Gils. These two passionate art teachers collaborated with leading New Zealand artists in the production of handmade prints, initially using the two small stone lithography presses they had brought with them from Belgium in 1983. Some of he artists they worked with included Gretchen Albrecht, Don Binney, Tony Fomison, Nigel Brown, Fatu Feu'u, Dick Frizzell, Ralph Hotere, Pat Hanly, Allen Maddox, Para Matchett, Robyn Kahukiwa, Michel Tuffery and Selwyn Muru.
The Muka Studio Gallery soon had over 100 well known artists exhibiting and working in lithography with them. In 1988 a huge antique Voirin Press, identical to the presses Picasso and Miro used was added to the studio's assets. Prints for international artists included Ed Ruscha, Michael Kvium, Panamarenko, Martin Assig, Fred Cress, Kazuo Katase, Luk Tuymans, Ann Veronica Janssens and many others.
In November 1987 at Muka studio, Frans and Magda organised an exhibition of original artworks exclusively for youth. What had been intended as a single show met with great popular success and became an important annual event which lasted for some 35 years and travelled nationwide. Through the efforts of Frans and Magda many young New Zealanders were give the invaluable opportunity to view and acquire especially selected works of art.
Please download the International Art Centre App as further works from this collection will be included in our ART at HOME online auctions. For instructions visit our website www.internationalartcentre.co.nz