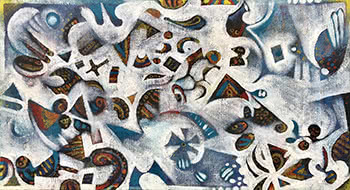 47.
Philip Clairmont (1949 - 84)
Untitled with Head Study verso
Oil on hessian
45.7 x 84 cm
Inscribed 3 Dimentional Head & dated 1970 verso
est. $10,000 - 15,000
Fetched $9,000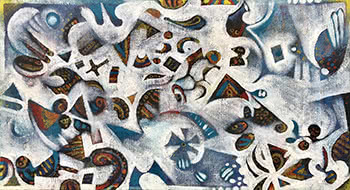 Relative size
PROVENANCE
Fine Art, Dunbar Sloane, 03/04/2012
Completed during his Honours year studying painting with Rudi Gopas (1913-1983) in 1970 these two works are rare surviving examples of Philip Clairmont's experimentation with abstraction. He is better known for his representation of recognisable elements in interiors - lightbulbs, couches, staircases, fireplaces - and his self-portraiture, which he described as representations of the inside of his head.
Even more unusually, the back of the rectangular work on hessian shows the lurid head of a baboon, a close evolutionary relative of humans, and a creature famously depicted by two of Clairmont's Expressionist art heroes, the English painter Francis Bacon (1909-1992) and the Australian Brett Whiteley (1939-1992).
Clairmont was an artist who painted very few animals in his short life. Reflecting on his life for a documentary, he remembered, "I wanted to be a painter or a bullfighter or nothing else." Clairmont did express his admiration for bovines in a painting of a bull, perhaps in a nod to Picasso. But the bravado of this statement about his sense of vocation underscores his remarkable achievement, managing to mount an exhibition of seventy works at Several Arts Gallery in Colombo Street in Christchurch in the late summer of 1970 when he was just 21 years old.
LINDA TYLER