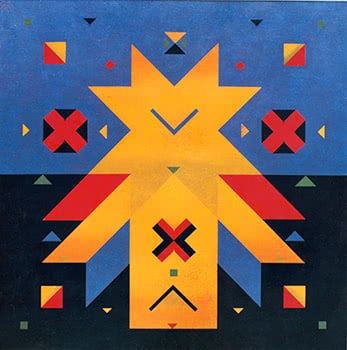 29.
Roy Good (b. 1945)
Here Comes the Star, 1971
PVA on canvas
91 x 91 cm
Signed & dated 1971 verso
est. $4,000 - 6,000
Fetched $3,100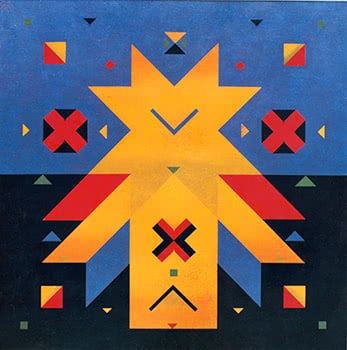 Relative size
PROVENANCE Purchased privately Purchased from the Artist
Roy Good has been prominent in both the art and design fields for 52 years. After graduating from Christchurch's Ilam School of Art, he moved to Auckland in 1966, and began a long association with Television New Zealand (then NZBC), including a stint as Head of Design from 1983-89. As a painter, Good exhibited at the Barry Lett Galleries in the early 1970s, then the Petar/James Gallery, where he was one of a group of abstract artists, including Mrkusich, O'Sullivan, Scott, Thornley and Walters, who, spurred on by their far-sighted dealer Petar Vuletic, rejected more popular local subjects and styles in an attempt to match international standards. In the 1990s Good was frequently engaged in high-profile corporate design projects, and he also taught part-time at the Manukau School of Art and Design and the Auckland School of Interior Design.
In 2007-8, Lopdell House Gallery in Auckland held a survey of his work curated by Ed Hanfling, In Good Form - The Abstract Art of Roy Good, 1967-2007, accompanied by a book of the same title.
In 2018 to mark the 50 years of art practice and exhibiting, Te Uru Waitakere Contemporary Gallery in Auckland published a book titled Parallel Universe - the Art & Design of Roy Good which was launched with an exhibition of the same title at the gallery in Titirangi. The following year the exhibition was hosted by the Centre of Contemporary Art in Christchurch, the artist's hometown. Roy lives and works in Auckland.