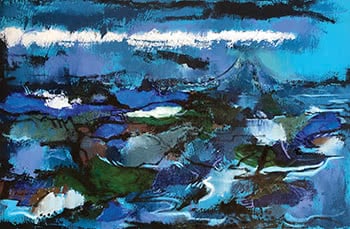 77.
Douglas MacDiarmid (1922 - 2020)
New Zealand II (Marlborough Sounds)
Oil on canvas
60 x 92 cm
Signed & dated 1967
est. $3,000 - 5,000
Fetched $9,000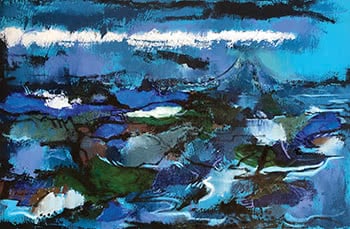 Relative size
EXHIBITED
One-man exhibition of recent work by Douglas MacDiarmid Dunedin Festival Week
This seascape is an aerial view of the Marlborough Sounds as seen by Douglas on a late 1968 trip home to New Zealand.
The title and location are confirmed in MacDiarmid's battered old painting record journal as one of four New Zealand scenes painted back in his Paris studio from sketches made while flying between Auckland and southern cities during 1967 and 1968 visits. The other locations captured were Mount Ngauruhoe; Takitimu Mountains, Southland; and the Canterbury Plains.
All four oil paintings came to New Zealand late in 1969 for Douglas' one-man show at Dunedin Public Art Gallery from 24 January to 12 February 1970, as guest artist for the city's 1970 Festival Week. New Zealand II was No 29 in the catalogue of 30 recent works, priced at $175.00.
At the time, Douglas' landscape and figurative techniques were not in step with current New Zealand painting styles, and his work was not well recieved by some northern art critics. The Dunedin reception, however, was much more generous. Reviewing the exhibition for the Otago Daily Times, on 28 January 1970, local painter Tom Esplin wrote: In an adjoining room can be found the one-man- show by the expatriate Douglas MacDiarmid, and it will certainly be a surprise to those who know him only by the early work possessed by the Dunedin Public Art Gallery.
The sense of colour that as always been his forte is still there, but MacDiarmid has lived in Paris since the last war amid all the artistic excitement of that lively capital. The result is a most arresting and attacking exhibition. The 30 works he displays reflect his increased interest in the figure..... Augmenting this, he presents various landscapes, including four inspired by New Zealand.
His work undoubtedly has a presence. It is a sophisticated, vivacious art that chatters in a cacophony of shapes and brilliant colours, strongly reinforced by a liberal use of a black, bounding line. There is a unity, a personal vision and an immediate impact in his canvases, but his is such an ebullient, vibrant and direct mode of communication that it often wavers on a tightrope of disaster with varying success; but then all stimulating, interpretive art so often has to run close to disaster to achieve its hard-won successes. Unsold paintings were exhibited as a solo selection at the Canterbury Society of Arts Gallery, Christchurch from 14- 28 February 1970. New Zealand II was purchased from that show.
The pastel version of this painting, titled Flying over Marlborough Sounds, 1968 was one of two from this series sent out to Douglas' dear friend Helen Hitchings in 1986 to sell in support of her efforts to equip the Wellington cottage of the late Rita Angus - a much-loved mutual friend - as an artists' residence for the Thorndon Trust.
Anna Cahill
Biographer Colours of a Life: The Life and Times of Douglas MacDiarmid, 2018