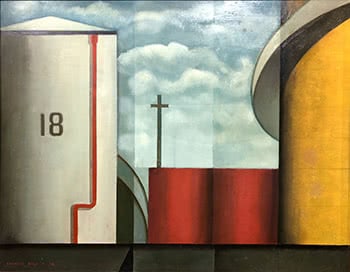 8.
Charles Tole (1903 - 88)
Oil Tanks
Oil on board
47 x 60.2 cm
Signed & dated 1971 - 76
est. $25,000 - 35,000
Fetched $45,000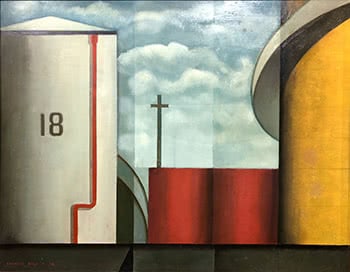 Relative size
PROVENANCE
Peter McLeavey Gallery Tim and Sherrah Francis Collection Purchased from Hamish McKay Gallery, Wellington, 2010
Precisionism, a sharply defined painting style which concentrates on the abstract geometrical aspects of industrial subjects, was America's contribution to modernism. Originating in Cubism and Futurism, it held appeal for artists wanting to reduce their compositions to simple shapes with smooth surfaces and little detail, but not go completely abstract. As can be seen in this composition of oil tanks at Port Ahuriri in Napier, Charles Tole was one of the style's local adherents, although he worked in other modernist modes as well.
Two of the four talented sons of the prominent Crown Commissioner of Lands David Austin Tole, Charles and his brother John Tole (1890-1967) lived out their lives together in a villa at 12 Seaview Road, Remuera. John, a solicitor who was on the council of the Auckland Society of Arts for twelve years, encouraged Charles, a public servant, to start painting in his late thirties. Exhibiting together, their distinctive paintings attracted admiration and critical acclaim, featuring in a three-page article in the first issue of the Year book of the arts in New Zealand which appeared in 1945.
The art historian Eric McCormick selected their works for special notice in his review of the annual Auckland Art Society Exhibition in 1951. Two years later, John was awarded the Bledisloe Landscape Medal for his painting Beyond Taihape. Charles achieved even greater success that his brother by featuring industrial content in his paintings, which he tightly cropped, emphasising the abstract form of the subjects.
Works by the brothers Tole went on to be included in four travelling collections of New Zealand painting to France, Britain, Australia and Russia. They joined with Louise Henderson (1902-1994), Helen Brown (1917-1986) and John Weeks (1886-1965) to form the important Thornhill group of Auckland painters. Works by Charles Tole are now to be found in New Zealand's major corporate collections, owned by the Bank of New Zealand and Fletcher Trust, as well as in the Museum of New Zealand Te Papa Tongarewa, Auckland Art Gallery, Christchurch Art Gallery and the Hocken Library. Both the University of Auckland and Victoria University in Wellington purchased works, and he was championed as a remarkable and significant artist by renowned Wellington dealer Peter McLeavey, prompting collectors Tim and Sherrah Francis to build a large and representative collection of Charles Tole paintings purchased directly from the artist in his lifetime.