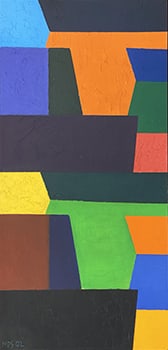 1.
Michael Smither (b. 1939)
Okahu Bay Boats
Oil & alkyd on board
62 x 30 cm
Signed & dated 2002
est. $8,000 - 12,000
Fetched $12,000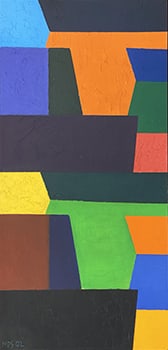 Relative size
PROVENANCE
Collection of the Artist Important Works of Art, Webb's 30/03/2010
Hugely popular with critics and the public alike, and in prestigious public and private collections both in New Zealand and overseas, Michael Smither was appointed a Companion of the New Zealand Order of Merit, for services to the art in the Queen's Birthday Honours List in 2004. Living near the idyllic Coromandel beach of Opoutere he continues to paint in his 82nd year. His 1967 painting Sea Wall and Kingfisher set the record for the sale of a work by a living artist in New Zealand when it sold at the International Art Centre for $342,000 in October 2019.
Since the 1990s, painter Michael Smither has repeatedly created images based on the patterns made by boats bobbing about in bright sunshine on the glittering waters of Auckland's Okahu Bay. These works have become increasingly abstract so that just the silhouettes of the bows and the cabins are evident in this painting, stacked vertically to form a column of bright syncopation. Highly coloured works such as this give free rein to Smither's interest in the connections between colour harmonies and contrasts and those found in music. A talented composer himself, he is interested in evoking the sensation of synaesthesia, where as a note is heard, a colour is seen, connecting the spectrum with the musical scale.
LINDA TYLER