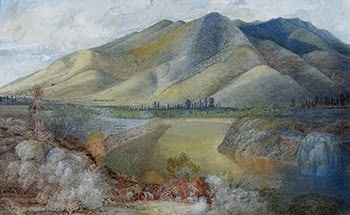 126.
John Kinder (1819 - 1903)
Mount Te Aroha and the Thames
Watercolour
28.4 x 45.2 cm
est. $4,000 - 6,000
Fetched $4,500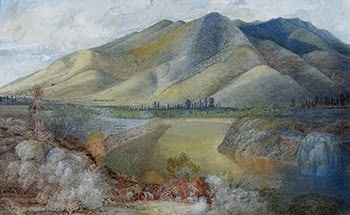 Relative size
PROVENANCE
Ex Collection of Artist's Grandson John Kinder
Kinder was born in London in 1819, the oldest surviving child of a wealthy merchant who fostered his son's interest in drawing and architecture from an early age. In 1838 Kinder attended Cambridge University where he studied theology, classics and mathematics and in 1846 was ordained as an anglican clergyman. In 1855 Bishop Selwyn appointed Kinder as headmaster of the new Church of England Grammar School being established in Auckland,New Zealand, he arrived in the colony with his mother and sister, never to return to England.
Kinder's life in New Zealand was one of achievement. At one time he lived at 2 Ayr Street, Parnell in the property now known as Kinder House. During his time in Auckland he held services in many churches including St Barnabas in Mechanics Bay, St Andrews in Epsom and St Marks, Remuera. Kinder travelled extensively throughout New Zealand and his passion for painting and photography have provided us with valuable historical records.
Between 1885 and 1891 he sketched throughout the Te Aroha region. The Waihou River and surrounds featured in this work were commonly know as Thames in Kinder's day, hence the title Mount Te Aroha and the Thames. During his lifetime Kinder's watercolours were shown in 1871 and 1873 at the first two exhibitions of the Auckland Society of Artists, of which he was a founding member.