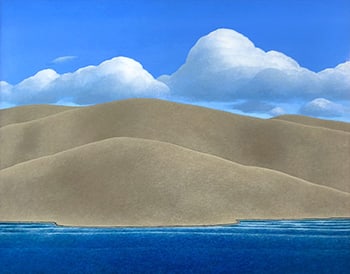 2.
Brent Wong (b. 1945)
Coastal Hills - Clouds 1984
Acrylic on board
45.4 x 57.7 cm
Signed, inscribed & dated 1984 verso
est. $12,000 - 18,000
Fetched $22,000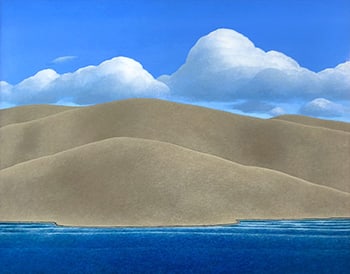 Relative size
PROVENANCE
W T Macalister c. 2014
Land and seascapes played a large part in the early work of Otaki-born painter Brent Wong. Growing up in a flat over his uncle's shop in Vivian Street Wellington, he briefly studied design at Wellington Polytechnic, but was mostly self-taught as a painter. He became fascinated with architecture and mathematical perspective. As his realist style developed, surrealist elements appeared like architectural flying saucers in the sky, making his work unique and highly sought after for public and private collections. The Dowse Gallery in Lower Hutt mounted a survey exhibition of his work in 1978 which ended its tour of the country at the National Art Gallery in Wellington.
By the early 1980s, clouds had begun to play a prominent part in his compositions. In this work, cumulus masses roll in over ochre hills in a generic coastal scene. It is a raw and uninhabited geography, perhaps the Kapiti Coast in late summer where the hills roll down to the sea or a particularly parched part of the East Cape. The sense of geological newness, and the effects of intensive pastoral farming which have denuded the land of its vegetation are instantly recognisable to any New Zealander.
LINDA TYLER