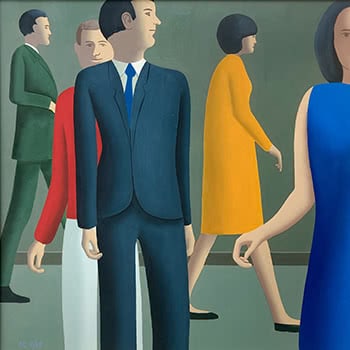 24.
Richard Killeen (b. 1946)
People Passing 1969
Oil on board
68.4 x 68.5 cm
Signed & dated 9/1969
est. $25,000 - 35,000
Fetched $46,000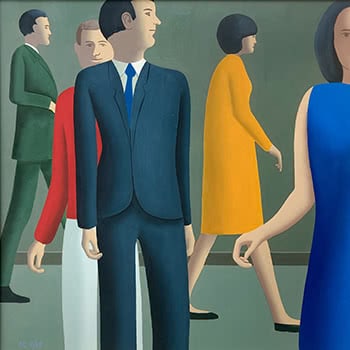 Relative size
PROVENANCE
Important Works of Art, Webb's 27/03/2012
Richard Killeen has been an exhibiting artist since 1967, with dealers in Sydney and New York. Locally he is represented by Ivan Anthony and Peter McLeavey galleries who have placed his works in major corporate and private collections as well as in the collection of each of the major metropolitan public art galleries. There are twenty works in the Museum of New Zealand Te Papa Tongarewa and Killeen's Post-Modern cut-out series was the subject of Francis Pound's 1987 PhD dissertation. Major exhibitions devoted to his practice have toured nationally, a distinction previously reserved for first generation modernists Gordon Walters and Colin McCahon.
The son of a signwriter, and with Irish Catholic ancestry, Killeen first came to prominence as a 19-year-old at the Elam School of Fine Arts in 1965 when one of his painting tutors, Colin McCahon, chose him as his assistant on a large commission to paint windows for the Convent Chapel of the Sisters of Our Lady of the Missions in Upland Road, Remuera. The windows are now in the collection of the Auckland Art Gallery. McCahon noticed that Killeen's compositions seemed assembled from separate parts, like jigsaw puzzle pieces with stylised figures rendered as flattened shapes applied over a neutral background, casting no shadows. Here the simple primary colours of red, blue and yellow brighten the representation of the banality of everyday life as figures cross in two directions on a city street.
This painting relates to American Pop Art, but also responds to local traditions of Realism which had been dominated by landscape. Neatly attired in suits and shift dresses of a respectable length, Killeen's figures are city slickers not country hicks; he is characterising New Zealanders as sophisticated and urbane. Using the frame to cut off the figures draws attention to the artificial nature of this realist construction, allowing investigation of figure and field as image and pattern and lending the image a mysterious, symbolic quality.
LINDA TYLER