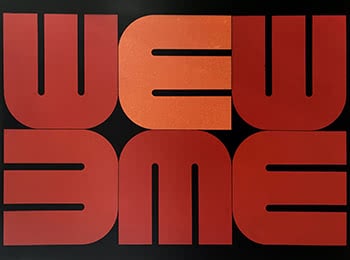 14.
Guy Ngan (1926 - 2017)
Tiki Hands Transformation 1981-2001
Acrylic and polyurethane on board
90 x 120 cm
Signed & inscribed
est. $10,000 - 20,000
Fetched $30,000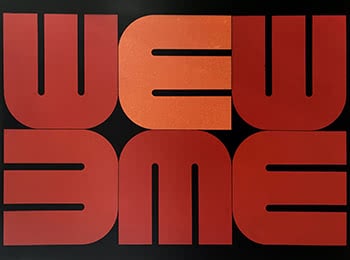 Relative size
PROVENANCE
Dunbar Sloane, 14/11/2007
ILLUSTRATED
Guy Ngan: Scrapbook No. 1, Guy Ngan, Ron Sang Publications, 2010
The inspiration for Tiki Hands comes from the discovery of new lands by the Polynesian people. Other seafarers have discovered land by design or by mistake. The Polynesians made the biggest discovery of all because the Pacific Ocean is enormous. For anything, there must be a beginning. Some time ago, I noticed that the same place names occurred in Japan and New Zealand - Otaki, for example. Also, the Japanese and Maori languages appeared to be similar. In Japanese, a river is called 'kawa', in Maori, it is 'awa'. I thought there must be a connection. Say that about 10,000 years ago, at the end of the recent Ice Age, there was a tribe in Japan. Like all human beings, they were looking for something better. So, they took to their boats and headed south, searching for more food and a warmer climate. They might have found islands to settle, such as Okinawa and then Taiwan.
Over the years, the people kept moving south, out into the Pacific. Some would get to Indonesia and Fiji, then east to the Marquesas. They would move from there to Tahiti and finally to Hawaii. How did the people know where to go? They had few instruments and no written language. My theory is this. When you live on an island, you see birds that come and go. When the birds take off and head out to sea, you wonder where they go. They must land somewhere. So, the tribe would sail out, looking for the land where the birds went. If you look at some seabirds, their webbed feet look as if they only have three 'fingers'. Like early Maori carvings that only have three fingers, I have used these in the 'Tiki Hands' paintings. It represents the birds the early Polynesian people might have followed when they set sail into the unknown ocean.
When the people found land, they found anchorage. A place to settle down. Perhaps a better place than they had come from. The Anchor Stones represent settling down in a new land. I have much pleasure in showing some of my works that pay homage to the early Pacific people. Courageously, 28 The Silich Collection 6:30pm Tuesday 14 September they discovered so many islands that we unhesitatingly call paradise. Guy Ngan March 2006
Guy Ngan was a second generation Chinese-New Zealander born in Wellington. In 1928, his parents, frustrated by the way they were often treated, moved with their two sons from Wellington to Guangzhou, China. As the ninth child of fifteen in a family of three wives, Ngan and his brother lived in one of his father's three homes, where his interest in the arts was encouraged with books and painting materials, while he received a traditional Chinese education. With the outbreak of the Sino-Japanese War in 1937, in 1938 Ngan's parents sent their two sons back to New Zealand.
Ngan studied Wellington Technical College with sculptor Alex Fraser. Under the advice of Fraser, Ngan traveled to London in 1951 to continue his education at Goldsmiths College while working for well-known sculpture John Skeaping. He went on to attend the Royal College of Art, graduating in 1954 as a Designer of the School of Wood, Metal and Plastics and then, under a scholarship, spent three months at the British School in Rome. After working in the United Kingdom and traveling to Scandinavia and North America, Ngan returned to New Zealand, having been enticed back by Gordon Wilson, the Government Architect. Here he was employed in the Ministry of Works Architectural Division, where he spent four years, followed by ten years as an Associate Partner for Australian based architects Stephenson & Turner.
Ngan continued to develop his artistic practice launching solo exhibitions at galleries including The Dowse (1972), Antipodes Gallery, Wellington (1974), New Vision Gallery, Auckland (1976), The Hastings Cultural Centre (1979) and The Southland Museum and Art Gallery (1979). Ngan built and designed his family home between 1950s and 80s, and from 1944 to 2012, created over forty public woodcarvings, sculptures and murals across New Zealand, with work also commissioned for the Asian Development Bank, Manila, Air New Zealand Tahiti and the United Nations Building, New York.
He exhibited frequently at The New Zealand Academy of Fine Arts, Wellington, where he had been a member since the 1940s, and also Director from 1976-'86, championing the creative endeavors of his fellow artists. In 1983, he received an OBE for services to the arts and in 2006, he had a solo exhibition entitled Guy Ngan: Journey: Aluminum Panel, Tiki Hands, and Anchor Stones at City Gallery Wellington. In 2012, at age 86, Ngan was inducted into The Massey University College of Creative Arts Hall of Fame.