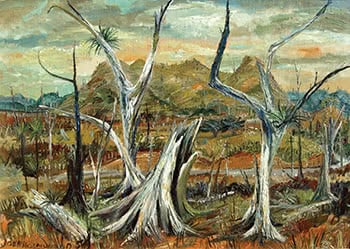 36.
John Holmwood (1910 - 87)
Raetihi Country 1956
Oil on canvas board
74 x 106 cm
Signed & dated 1956
est. $4,000 - 8,000
Fetched $6,500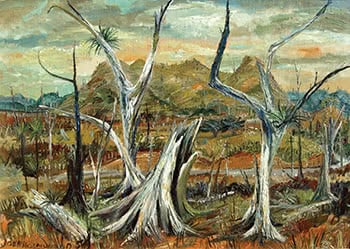 Relative size
PROVENANCE Important, Early & Rare, International Art Centre 01/07/2008
Illustrated: Landscape Paintings of New Zealand, Christopher Johnstone
Few New Zealand artists could have matched the diverse range of work that John Holmwood undertook during his career as a painter, commercial artist and designer. As a boy he Holmwood attended Linley Richardson's Saturday morning classes. At 14, he was apprenticed to the Railways Advertising Studios, and he also attended evening classes at Wellington Technical School. During the Depression Holmwood was transferred to Christchurch and Dunedin, and in 1934 he took a year's leave of absence to design posters for an advertising agency in Hong Kong. He returned to the Wellington office and also began to teach drawing part-time at the technical school. He then worked at an advertising agency, replacing Russell Clark who had left to teach in Christchurch. During World War II, Holmwood served in a camouflage unit in the Pacific. On leave he married another designer, Nola Findlay, and with her painted a 120-foot mural for the Railway Court at the 1940 Centennial Exhibition in Wellington. Nola then established a commercial design studio, which Holmwood joined at the conclusion of the war, when he also began to paint regularly for the first time. His first work to enter a public collection was Landscape with Sawmill (1952) which the Auckland City Art Gallery purchased in 1953. In 1957 Holmwood had a successful solo exhibition at the Centre Gallery, Wellington, and in 1958 he was in the Auckland gallery's Eight New Zealand Painters and a work, The Gardener, was included in a New Zealand exhibition which toured the USSR. Holmwood was elected president of the Auckland Society of Arts in 1971, but when Nola died in 1972 he resigned and moved to England. He ceased painting in 1976 because of poor eyesight. Holmwood made a return visit to New Zealand when the ASA organised John Holmwood. Retrospective Exhibition 1946-1976 in 1984.
Holmwood credits his wife Nola for "her drive and business acumen . . . her backing, understanding and encouragement" which enabled him, after the war, to do more painting:. "It did not matter how good or bad - I can only say that I began to enjoy the world in a new way. I had to paint at night usually, sometimes until 3 am - then five hours sleep and then an excursion to the easel to be flattened or maybe to find a surprise. I would after work come home and perhaps carry out some alterations, but mainly I painted in one go".
Holmwood described his approach to painting as "expressionistic, emotional" and virtually no other work of his represents this better than Near Raetihi; Holmwood has painted it with passion verging on rage. "The pioneers started this slaughter of the bush", he wrote at the time, "and it still goes on. You can't get it back". We get an insight into his working method from his description of making another painting at this time: it "was painted in about seven hours flat, from a small pencil note made when on a trip passing through Raetihi country".
Few artists have depicted bush clearing so vividly and with such vehemence, yet, paradoxically, it is tempered by the artist's poetry and control to make a coherent painting. The composition has a certain symmetry in its "head on" view, the road, hillside beyond, parallel to the horizon line. The dead trees are like dancers in a strange ghostly ballet, a danse macabre, across the front of a stage set. And Holmwood adds an optimistic touch; two of the trees are sprouting new growth.
Christopher Johnstone