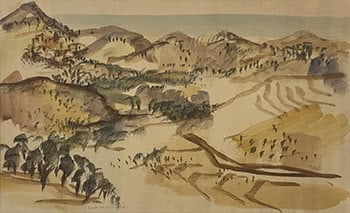 75.
Douglas MacDiarmid (1922 - 2020)
Landscape in Corsica
Watercolour
31 x 49 cm
Signed & dated 1955
est. $2,000 - 3,000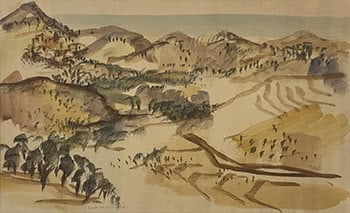 Relative size
Douglas first visited Corsica while he was in the Alpes- Maritimes area of the south of France, living and working on a friend's farm inland of Nice, near the medieval village of Tourrettes-sur-Loup, during 1951. He had just returned to France from New Zealand to make his life as a painter. His friend was a wealthy Parisian antique dealer always in search of fresh finds; when Pierre took time out from his Paris business, they roamed the island together.
Corsica is the most mountainous island in the Mediterranean, more than 200 kilometres offshore. A spectacularly beautiful French territory of craggy peaks, dense pine forests, sheltered coves and beaches, with a distinctly Italian culture. Air travel has made the island more accessible than it was in the 1950s, when the shortest way of getting there was a rough, overnight ferry ride - a long night in a hard deckchair Even today, ferries take about 10 hours to make the crossing, depending on your destination.
For Douglas, the island was everything he had imagined as a child the Mediterranean to be, a place of ancient history, wild rocky vistas and sunbaked landscapes, rich traditions, ramshackle villages, long human continuity and adventure. While the capital Ajaccio, in the south, is the birthplace of Napoleon Bonaparte, Calvi on the north west coast, across the island from Bastia, is reputedly the home of Christopher Columbus.
The air is calm as two centuries back, he wrote home to his parents. Really one takes a leap out of the familiar world. Many burdens are still carried on the head, the women in voluminous black. Toured around marvelling at the hard, rose rocks and cliffs, tawny burnt grass, green sea and dull orange and grey villages...
At one stop we put our heads into a dark stone hole where ancient hags in black were baking bread and cackling like witches. One gave us a little loaf - pure wheat and milk cooked hard, like a piece of exquisite timber, dry from the tomb, to eat....It is sometime since I saw country that pleased me so heartily - two days at least
Once Douglas settled in Paris, he returned to Corsica to explore and paint for a few leisurely weeks in 1955, 1964 and 1981, captivated as much by the dramatic terrain and intense light as the resilience and hospitality of the people, and the novelty of a distinctly Italian culture on French soil. With his love of the classical world and ancient mythology, here was a place where he could picture himself in a different time.
Later he wrote: On Corsica, travelling very mountainous roads and pink precipitous scenery - very grand and abandoned, and fearful roads, of course. Corsicans are famous for hating work, and this is obvious in the holes in the road, enough to break a car in two, and also in the low standard of hotel accommodation. The whole country very rudimentary still, things like plumbing quite maddening, nowhere do taps run or showers work. One pipeline feeds the entire island I'd say, and if anyone turns on a tap it stops the flow for everyone else. Here at Algajola, the region has the sort of arid Mediterranean olive valleys and mountain moors that I most particularly like - lots of good sketching, the sun and sea superb. Inland from here there are an amazing number of parched villages and an astonishing number of churches - mostly 18th Century Jesuit and flamboyant but very charming.
A later oil version of this hinterland Corsican Landscape is in the Dunedin Public Art Gallery's permanent collection. Landscape in Corsica probably came to New Zealand soon after being made in one of the packages of paintings (mostly watercolours) Douglas periodically sent home to friends, composer Douglas Lilburn and Professor Frederick Page (his old university music teacher and husband of his first art mentor Eve Page). The pair - sometimes joined by art philanthropist Dr Ian Prior - acted as voluntary 'agents' selling MacDiarmid work under the radar for a number of years within their professional and social networks to help the young painter survive while struggling to find a foothold in the competitive French art market.
Anna Cahill
Biographer Colours of a Life: The Life and Times of Douglas MacDiarmid, 2018