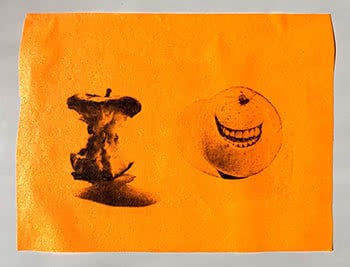 21.
Billy Apple (1935 - 2021)
Untitled
Xerography on canvas
25 x 34 cm
est. $25,000 - 35,000
Fetched $22,500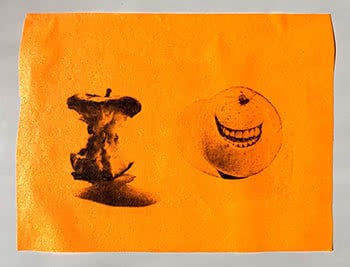 Relative size
PROVENANCE
Fine New Zealand Paintings, International Art Centre, 24/03/2004
EXHIBITED
Billy Apple in Idaho, 352A Street Idaho Falls, USA, 1966 Sue Crockford Gallery, Auckland, 2001
Untitled features the apple core that appeared in his 1966 work titled Apple Core (2 minutes 33 seconds) made that same year on a stretched rayon fabric. That piece illustrated p. 88, Billy Apple: Life/Work, Christina Barton, Auckland University Press, 2020. It was made when Billy Apple was on his Ford Foundation Residency in 1966 and was exhibited later that year in Idaho.
In 1959 based in London and attending the Royal College of Art, Barry Bates the young graphic designer from Auckland met fellow student David Hockney. The two were part of London's vibrant art scene and amongst the pioneers of Pop Art. In 1962 Barry Bates reinvented himself as the art persona, Billy Apple. The intention of this self-branding, and one that was fully realised by Apple over six decades, was to remove any division between his art and life.
Moving to New York, Apple exhibited in the legendary 1964 American Supermarket at the Bianchini Gallery before going on to become a key figure in the development of conceptual art having opened APPLE, a not-for-profit space (1969 -1973). As director of 112 Greene Street Gallery in 1975 he gave Ana Mendieta her first New York show. In the 1980s his text-based works drew attention to relations between artist, dealer and collector and were called Pop Conceptual by gallery owner Leo Castelli, arguably the first use of the term.
Billy Apple became a registered trademark in 2007, formalizing his art brand status and his interest in intellectual property. Apple was awarded a ONZM in 2018. True to his creative and entrepreneurial spirit, Apple was collaborating with scientists on a variety of projects that range from biomedicine to marine geology until his death at age 85, in September 2021.