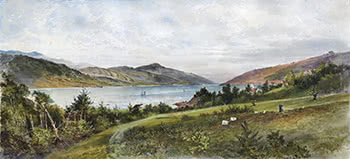 44.
William Matthew Hodgkins (1833 - 98)
Glenfalloch 1
Watercolour
37 x 75 cm
Signed & dated 1885
est. $30,000 - 40,000
Fetched $52,000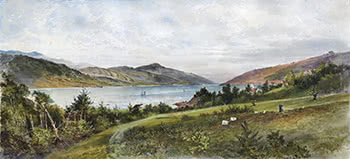 Relative size
These important 19th Century watercolours (Lots 44 & 45) by William Matthew Hodgkins, a leading advocate of art in Dunedin, the founder of New Zealand's first art gallery and father of Frances Hodgkins is of historic Glenfalloch on the Otago Peninsula. Glenfalloch, Gaelic for hidden valley, was established in 1871 as the residence of English settler, George Gray Russell. Russell purchased a 100 acre block from James MacAndrew, the first Superintendent of the Otago Province. An early entrepreneur, Russell possessed a keen appreciation for beautiful gardens and oversaw the planting of English beech, oak, ash, walnut, elm and horse chestnut trees to complement.
The thriving native foliage which included silver ferns and a precious thousand year old Matai tree, still standing today. This work by Hodgkins, one of the leading artists of his day, captures the rustic beauty of early Glenfalloch. The National Library of New Zealand holds a number of the artist's pencil sketches of Glenfalloch, dating from 1885 to 1896. In this historic watercolour we see the homestead built from kauri and baltic pine with grazing sheep, a sailing ship and other small vessels on the waters below. In the early days, access to and from the harbour-side settlements of the peninsula were severely restricted, George Russell had his own steamer the Moerangi and commuted to and from Dunedin, attending services at St Pauls Church on Sunday. Since 1967 the Otago Peninsula Trust, New Zealand's first private charitable conservation trust, established to preserve the Otago Peninsula, have protected and nurtured the living legacy that is Glenfalloch.