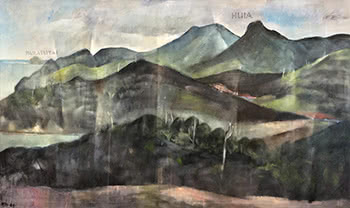 47.
Melvin Day (1923 - 2016)
Huia
Oil on canvas
137 x 228 cm
Signed, inscribed & dated 1984
est. $25,000 - 35,000
Fetched $25,000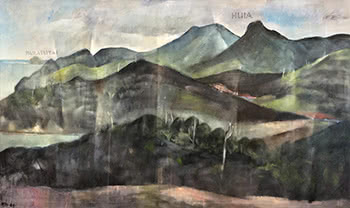 Relative size
PROVENANCE
Fletcher Trust Collection Private Collection, Auckland 77 Works from the Fletcher Trust Collection International Art Centre, 10/09/2014 Purchased from the above auction by current owners
Melvin Day was born in Hamilton and at 11 years old, and living in Auckland, began attending Saturday morning art classes at Elam School of Art. In 1939 he became a full-time student under the tutelage of John Weeks, Lois White and Ida Eise, graduating in 1942. Day's war years were served with the New Zealand Army and in 1944 he was transferred to the Royal New Zealand Air Force. After the war Day spent a few years teaching and painting in the Rotorua area. Moving to Wellington in 1954 he gained a Bachelor of Arts degree from Victoria University while teaching at Hutt Intermediate School.
From the 1950s onwards Day exhibited widely throughout New Zealand and in 1961 his work featured in the Commonwealth Art Today exhibition in London. Based in London during the early 1960s Day studied art history at the Courtauld Institute, attending lectures by Professor Anthony Blunt. These studies ignited a fascination with the geometric precision featured in the works of the Italian Renaissance painter, Paolo Uccello, and lead to Day's creation of his celebrated Uccello Series. In 1964 he exhibited alongside fellow New Zealand artists Ralph Hotere, Edward Bullmore and Gordon Browne in the Young Commonwealth Painters at Whitechapel Gallery, London.
For a time Day taught in London before returning to New Zealand in 1968 and his appointment as director of the National Art Gallery of New Zealand.
In 1978 he was appointed government art historian. Throughout this time Day painted prolifically. Two retrospective exhibitions were held, one at the Dunedin Public Art Gallery in 1970 and the Dowse Art Gallery, Lower Hutt in 1971. A major survey exhibition, Full Circle was held at the Wellington City Art Gallery in 1984. A thoughtful and scholarly painter, Day's interest in various periods of western art history is reflected in his work. He studied and utilised a wide variety of influences from the painters of the Italian Renaissance, to the modernist works of Cezanne and Braque.
In 2003 Day was awarded the CNZM for services to the arts. In 2004 a major survey exhibition Melvin Day - Continuum was held at City Gallery, Wellington. In 2009, along with Nigel Brown and John Walsh, he travelled to Fiordland to paint the landscape which had inspired Cook's artist, William Hodges. The journey was documented in Peta Carey's film The Waterfall. Day's portrait of Donald McIntyre was gifted to the New Zealand Parliamentary Services in 2011. The artist died in Wellington on 17 January, 2016.
Melvin Day's works are found in many national and international public and private collections including Te Papa Tongarewa, The Dowse Art Museum, the Rotorua Museum of Art & History, the New Zealand Ministry of Foreign Affairs and Trade, the State Services Commission, the Dunedin Public Art Gallery, the Auckland Art Gallery and the New Zealand Portrait Gallery.