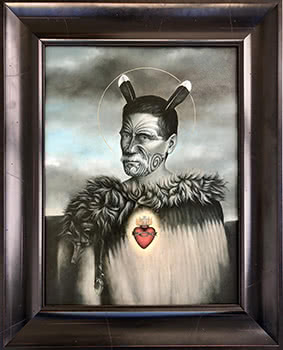 27.
Heather Straka (b. 1972)
Jesus in Furs from Paradise Lost Series
Oil on board
70 x 51 cm
Signed, inscribed Jesus in Furs & dated 2005 verso
est. $30,000 - 40,000
Fetched $50,000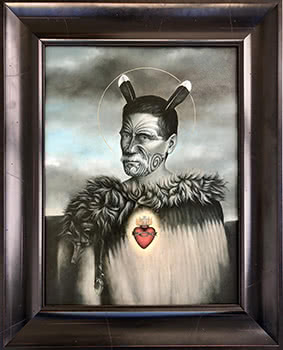 Relative size
PROVENANCE
Private Collection, Auckland Purchased from Paradise Lost, Jonathan Smart Gallery, Christchurch 2005
EXHIBITED
Paradise Lost - Heather Straka Jonathan Smart Gallery, March 11 - April 2, 2005
The great Ngati Maniapoto chief, Rewi Maniapoto, was painted by Gottfried Lindauer in 1882. Come the new millennium, Heather Straka re-works the painting. The huia feathers of the rangatira have their white tips within and without the gold rim of a clear halo. His prized kuri skin cloak is topped now with a fox; while a flaming heart burns at the centre of his being - a devotional image that is both Catholic and high camp.
Jesus in Furs. But is she really painting the unthinkable? After all, Maniapoto was a terrific and fearless leader of men and like many of his peers, he was in his lifetime greatly influenced by missionary teaching - while working keenly and strategically between the King Movement, North Island iwi, and the various governments of his day. In other words, Maniapoto was hybrid in attitude and dress.
Here he is rendered sensitively and with dignity - Straka's careful painting begging the question, just who is saintly and who is to be feared here? Or, at the behest of the exhibition title, whose paradise has been lost, and what has been the gain?
Straka's blend of European and it's indigeneity is cheeky, brazen and knowing. She sees a similar mix of cross-cultural influences layering our society today. For her, the power of art to be provocative, to ask questions, is an important prerogative. With elegance and care, Heather Straka in Paradise Lost is very deliberately referencing contemporary society by acknowledging aspects of our past.
Text from exhibition Paradise Lost - Heather Straka Jonathan Smart Gallery, 2005