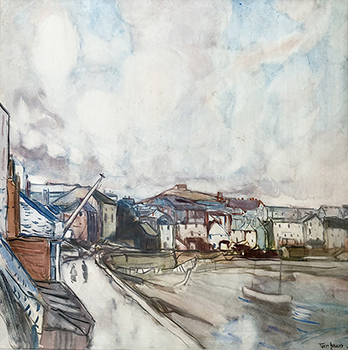 40.
Frances Hodgkins (1869 - 1947)
St. Ives
Watercolour
66.5 x 66.8 cm
Signed
est. $200,000 - 300,000
Fetched $230,000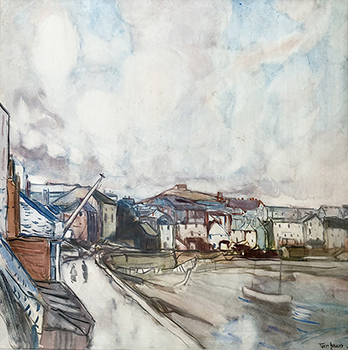 Relative size
Image RC2015/4/4/42 https://completefranceshodgkins.com/objects?query=Wharf+studio
PROVENANCE
Private Collection, Auckland
Formerly Art Gallery of South Australia Adelaide, [01614], Elder Bequest 1955 Leonard Joel, Melbourne, 1989 International Art Centre, 1991
Frances Hodgkins database number FH0580
EXHIBITED:
Anthony Hordern's Fine Art Gallery, Sydney, October 1918 (no. 33) as Low Tide, St Ives
Forced to flee France in 1914 when war broke out, Frances Hodgkins eschewed London as too expensive (and too dangerous) and retreated to St Ives in Cornwall, and the comfort of familiar older faces such as fellow artists and supporters Moffat Lindner and his wife Augusta, known affectionately as Gussie.
Hodgkins had first visited Cornwall in 1902, drawn there by the long-standing artists' community based around Penzance and Newlyn. Painting conditions were like those found in Brittany, which had been favoured by the Impressionists, where they could paint en plein air, capturing the constantly changing play of light on the water, and the activities of the fishing communities. Fishing boats in both communities favoured the red sails recorded in Hodgkins' own European watercolours between 1902 and 1914.
Hodgkins and Dorothy Kate Richmond had returned from the Italian Riviera full of their experiences, and once settled in Penzance they braved the foul weather to make the brief journey to St Ives on 24th February 1902 to attend the local artists' open day. Hodgkins wrote a hilarious letter to her mother describing the experience. She was somewhat dismissive of the general standard, the exceptions being works by John Arnsby Brown & Julius Olsson (the latter had taught Augusta Lindner), although she was too late to view paintings by Louis Grier. She wrote, 'It was great fun going round - the Studios were hidden in the queerest places. Down dark subterranean passages up chicken ladders - in old boat houses, up sail lofts - anywhere where they could get a white-washed wall & a top light'. [Letter to Isabel Field, 7 March 1902]
By the time they had battled their way to the Dutch artist Gijs Bosch Reitz's display in the late afternoon, they were too exhausted to study his paintings, instead wolfing down the afternoon tea he had provided. Finally, they dashed to the Ocean Wave Studio, only to find that the proprietor was drunk, before making their exhausted, bedraggled way back to Penzance. Things were not so lively when Hodgkins arrived in St Ives amid a ferocious winter blizzard at the end of 1914. With the help of Moffat Lindner she took over one of the Porthmeor studios and set to making it suitable for teaching, whitewashing the bright pink walls and decorating the space with knickknacks she picked up in the village. It's large wall of windows overlooking the wild Atlantic seas provided the natural light essential for artists painting all year round.
At first, Hodgkins suffered from the isolation, particularly having to eat alone each evening, and wrote to her mother recalling her happy time in Concarneau. 'Why was I so prodigal last year, travelling about as tho' I had endless resources. Still, I don't regret it. It was the first time, absolutely the first time I felt happy & secure & sure of myself. I was in full flight & full of aspiration! The war has put much that might have been quite out of reach. [Letter to Rachel Hodgkins from St Ives, February 25th 1915]
Magnificent in scale, Low Tide, St Ives demonstrates the immense skill in handling watercolour that Hodgkins had acquired during her years in France, its square format also seen in a number of her large oil paintings, such as The Edwardians (Auckland Art Gallery) and Loveday and Ann (Tate, London). Whether Hodgkins was able to source large sheets of watercolour paper in St Ives, or whether she had carried supplies with her from Paris, is unknown, although the latter is more likely as French paper was better quality.
Low Tide, St Ives must have been painted in the early part of 1915, for by June that year it was forbidden to paint out of doors in case you were a spy sending information regarding the coastline to the enemy. It shows the sweep of Wharf Road leading round the inner harbour. Only a single small craft is drawn up on the sand, as all the herring boats were currently at sea; once they returned the sand would have been invisible beneath a mass of hulls and masts.
Dominating the scene are billowing moisture-laden clouds rising above the village. Painted wet on wet, Hodgkins has left the white paper untouched in the palest areas, floating her pigments skilfully around these masses. She had perfected this technique during her time spent in France from 1808 to 1914. Wharf Rd and the shallow traces of water on sand are also painted wet on wet, unlike the buildings, where dry paper allowed a denser treatment of pigment. We can almost feel the moisture in the air.
Hodgkins animates some of the tight cluster of cottages, shops, inns, and ships chandlers that line Wharf Road with dabs and dashes of grey and black, a red wall adding warmth to the cooler tones. The buildings in the background are separated by a block of dark stone buildings clustered up the steep hill. Behind this line of buildings of the left runs Fore Street, which is mentioned by Hodgkins as her choice for walking, no doubt as the buildings gave some shelter from the elements, for storm waves regularly crash over Wharf Rd even today.
On the hill in the distance the tiny stone Chapel of St Nicholas, patron saint of children and sailors, stands in isolation against the sky. Also overlooking Porthmeor Beach, its wind-battered vantage point was a brief walk from Hodgkins' studio. Eventually the cold of winter, and the vermin attracted to the herring sorting that took place under the building, proved too much for her, and she moved to Wharf Studio in the more sheltered environment of the inner harbour, to the right of this watercolour. MARY KISLER
(1) https://completefranceshodgkins.com/ objects/29258/letter-from-frances-hodgkins-to- rachel-hodgkins (2) https://completefranceshodgkins.com/ objects/29257/letter-from-frances-hodgkins-to- rachel-hodgkins