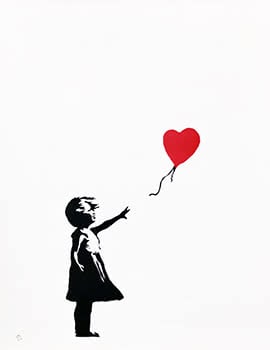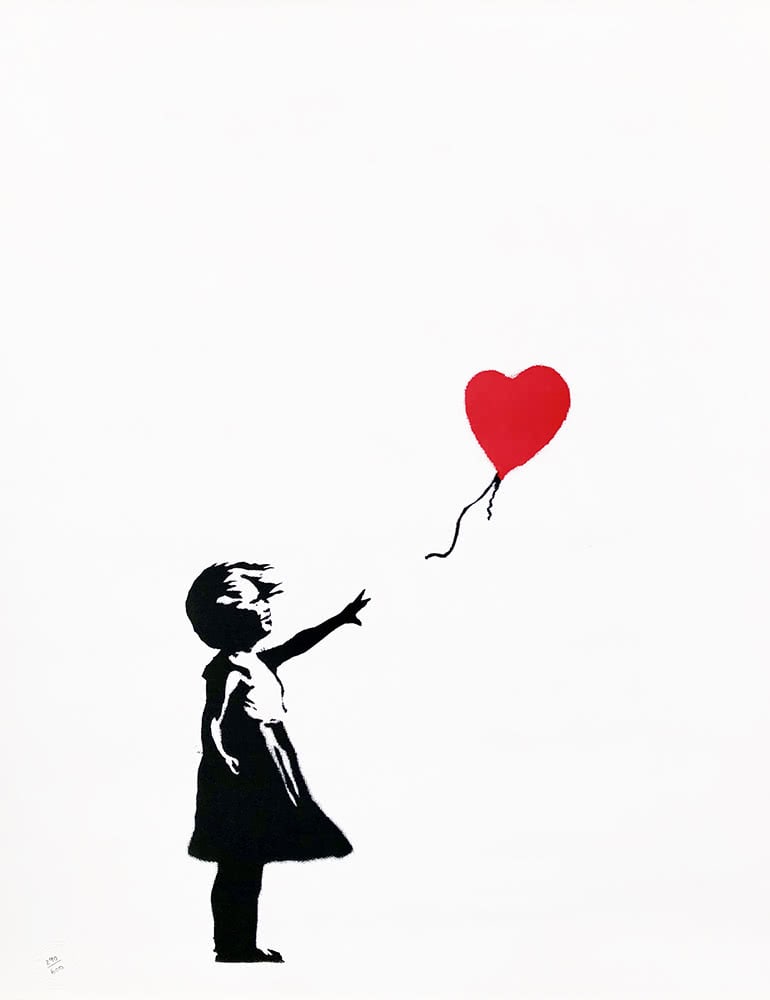 28.
Banksy (British b. 1974)
Girl With Balloon
Screenprint, edition 290/600
70 x 50 cm
Numbered on embossed POW stamp
est. $250,000 - 350,000
Fetched $300,000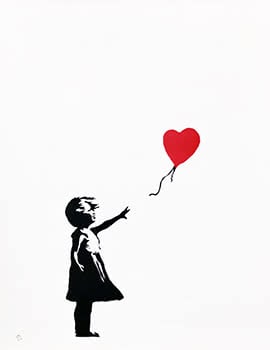 Relative size
PROVENANCE Private Collection Wellington Purchased from Pictures on Walls by current owner 2005
This work is accompanied by a Certificate of Authenticity from Pest Control
Girl With Balloon, is one of Banksy's most important works, demonstrating the artist's graffiti stencil technique, it was released in small editions of unsigned and signed prints in 2004/2005. There are just 150 Girl With Balloon signed prints, and 600 unsigned making it one of the artist's most sought-after works.
Banksy depicts a young girl reaching for, or releasing, a red heart-shaped balloon that has slipped from her grasp. The gesture and the red balloon, an archetypal symbol of childhood and freedom, present a powerful message that can be read in a number of ways. Whether you see the little girl as losing the balloon, or about to catch it, the meaning can be interpreted as a portrayal of loss or the arrival of new hope and love. In 2002, when the original mural appeared in London's Southbank, it was accompanied by Banksy's quotation There is always hope. The street souvenir was later painted over by the council.
In 2017 Girl With Balloon was voted the UK's favourite work of art. The following year, Girl with Balloon was the subject of the now infamous public art stunt. As the Sotheby's auctioneer brought the hammer down on a US$1.4M bid, the work partially self-destructed through the activation of a mechanism installed in the frame. Later that same day, Banksy posted an image on his instagram account of the work shredding itself with the caption: Going, going, gone. The successful female bidder proceeded with her purchase, commenting that while at first she was shocked, she realised that she would end up with a piece of her own art history.
In October 2021 the shredded and renamed Love is in the Bin was offered through Sotheby's auction, realising NZ$35M. Pest Control, Banksy's only authentication body, retitled the work.