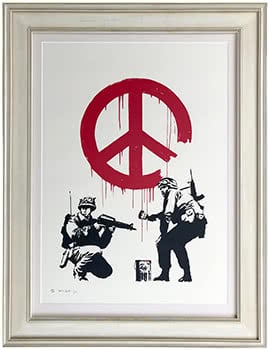 30.
Banksy (British b. 1974)
CND Soldiers
Screenprint, edition 130/350
70 x 50 cm
Signed
est. $80,000 - 120,000
Fetched $80,000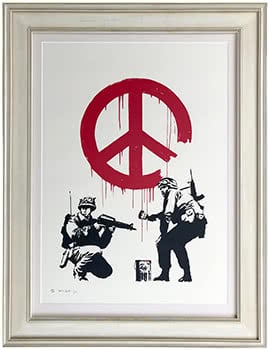 Relative size
PROVENANCE
Private Collection, Wellington Purchased from Pictures on Walls by current owner, 2005
This work is accompanied by a Certificate of Authenticity from Pest Control
Banksy's powerful anti-war work, CND Soldiers is a limited edition silkscreen print released by Pictures on Walls of London in 2005, in an edition of 350 signed, and 350 unsigned prints. The image first appeared in 2003 as a mural outside the Houses of Parliament during an anti-war protest led by Brian Haw, an English peace campaigner who lived for a decade in the Westminster peace camp. At the time the UK's involvement in the Iraq war had been brought to light, and the fact that millions of people, including soldiers, protested against the invasion was reportedly ignored. The anti-war art statement was later removed by the authorities.
The work depicts two soldiers painted in the artist's black and white stencil trademark style on a monochromatic background. Whilst one soldier holds a machine gun on lookout, the other is painting a large peace symbol in red paint - the only coloured element in the image. The satirical juxtaposition of soldiers and their guns alongside the iconic, almost completed peace sign is intended to make the viewer question the army's role of keeping the peace.
Questioning the validity of the nanny state is a central theme in Banksy's work. The red peace sign originally symbolised the British Campaign for Nuclear Disarmament (CND) of 1957 and is now widely known as an international symbol of peace. Banksy's inclusion of it here, painted in dripping red paint, overtly evokes the bloodshed and human cost of war. Further contrasts are drawn as the soldiers, who act on behalf of the government, are now represented as activists and vandals, graffitiing the wall in protest.